NBA players occasionally make last-minute surprise appearances during the summer at Dyckman, arguably the most popular streetball tournament in New York City.
But one player didn't arrive in typical fashion Monday night, which marked the start of Dyckman's second round of the playoffs.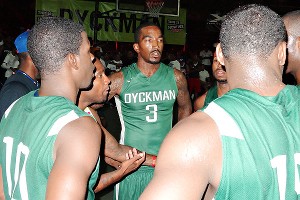 Sharon Bond
J.R. Smith made a surprise appearance at the popular Dyckman streetball tournament.
At the end of regulation of the second game of the night, Home Base Entertainment and Skull Gang Records -- both Harlem-based teams -- were tied, playing in front of thousands of fans in NYC's Inwood neighborhood. NBA players Tyreke Evans and Sundiata Gaines had already been playing for SGR when, all of a sudden, a New York Knick appeared from the court's fenced entrance with an entourage and cameras following him.
It was J.R. Smith, who came to suit up for SGR, a team he and his younger brother, Chris (also a Knick), had played for once earlier in the summer. This time, J.R. was alone on the court. Chris was on the sideline watching, along with Olympic gold-medal winner James Harden, Harlem-based rappers Jim Jones and Juelz Santana, as well as Lloyd Banks, who's from Queens.
Smith only scored one bucket in SGR's double-overtime win, but it was the biggest one of the night. In fact, it stopped play for a few minutes, with players, coaches and fans rushing the court and celebrating as if the game was in the books. After a rebound, Smith received the outlet pass, orchestrated his own one-man fast break and then threw himself an alley-oop off the backboard for the two-hand jam (a la Tracy McGrady in the 2002 All-Star Game).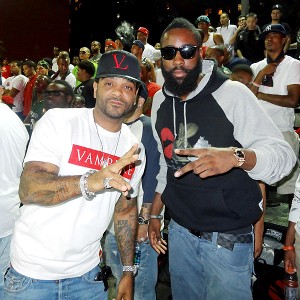 Sharon Bond
A day after winning the gold medal in London, James Harden made a pit stop at Dyckman.
With the victory, Skull Gang Records advanced to the semifinals, which take place Wednesday night, likely at 7 p.m. ET. Dyckman reps expect Smith, Evans, Gaines and a few more surprises. For all the league's latest updates, follow them on Twitter here. Their other playoff contests continue Tuesday night.
Other NBA players who showed up at Dyckman this summer are Knicks guard Iman Shumpert, Baron Davis and Hawks guard Anthony Morrow, who played for the Nets the past two years.
You can follow Jared Zwerling on Twitter.