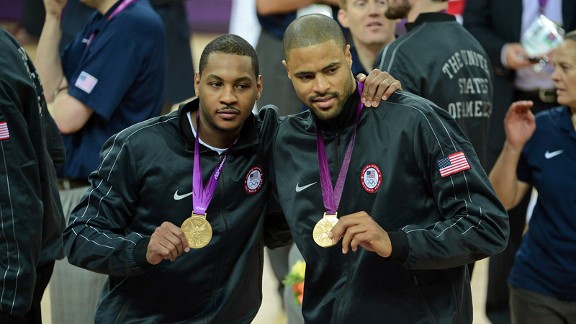 Garrett W. Ellwood/NBAE/Getty Images
Carmelo Anthony and Tyson Chandler brought the gold home for the U.S.Starting with Team USA's first practice in London, NBA Defensive Player of the Year Tyson Chandler gave fans insights into his overseas experiences through his exclusive Olympic diary with ESPNNewYork.com.
Tyson spoke with ESPNNewYork.com on Wednesday for his fourth and final entry, reflecting on his time in London:
THE MOMENT
I thought about the words from Army Gen. Martin E. Dempsey, who we met in Washington during a Hoops for Troops event, and from Coach K. Before the gold-medal game, he said, "You're going to hear the national anthem twice today. You're going to hear it once before the game and you're going to hear it once again after the game when we win that gold medal. I promise you, your lives will never be the same." And it was absolute truth.
People ask me, "What did you feel standing on the podium during the national anthem?" Well, before the game, Coach K played a video of Marvin Gaye singing the national anthem, and he put in highlight clips of us making hustle plays to emphasize teamwork. And when the national anthem was playing, I thought back to the hard work that we put in, the dedication.
I also thought about Gen. Dempsey and a lot of other people who I came across during this journey, and it literally felt like -- the only way I can describe it -- it was like somebody had a bowl of hot water and they were pouring it from the top of my head to the tip of my feet. You had this warm feeling, you got goose bumps of pride. It brought me to tears and a lot of my teammates as well. It's pride for your country.
The biggest thing to me was to have my children, Sacha-Marie, 6, Tyson Cleotis II, 3, and Sayge, 1, there to witness me wearing a gold medal. They're not really full aware of it right now, but they understand I won a game and it was big. To be able show them the video of that may have been my proudest moment as a father -- being able to accomplish something that I can put in front of my kids and show them that they can accomplish anything that they put out to achieve in life. That was the biggest thing.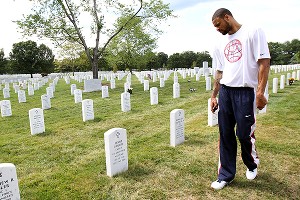 Nathaniel S. Butler/NBAE/Getty Images
Visiting Arlington National Cemetery helped Team USA gain perspective before the Olympics.
THE TROOPS
The Hoops for Troops experience in D.C. last month at the District of Columbia National Guard Armory really was the driving force behind my motivation to be at the Olympics. I think coming into the Olympics, you're just so happy to be on the USA team, to be able to represent your country. But it's more than a basketball standpoint, where I didn't think about, "Wow, the Dream Team and growing up and idolizing them, and then now being affiliated with the same team." After doing the Hoops for Troops event, which provides support for the U.S. military and their families through different programs, and being able to talk to and hear from Army Gen. Dempsey, it put things into actual perspective that we're representing our country, we're representing war vets, we're representing active soldiers.
To be honest, before we visited Arlington National Cemetery and had an opportunity to talk to Gen. Dempsey and others, I didn't think about that perspective. We went to the Tomb of the Unknown Soldier and walked the grounds. That's when I really put things into perspective of what we were playing for and what we were representing. It was also just a lot of motivation to meet Capt. Scott Smiley in Las Vegas last month. He lost the use of both of his eyes when a car bomber blew himself up in front of his vehicle in northern Iraq. I had the opportunity to talk to him during practice, and his story was unbelievable.
MORE REFLECTIONS
The Olympic competition has definitely gotten better. The game of basketball is now a global game. Players feel that the U.S. just stepped up now and everybody else wants to feel the same. The other countries have just as much pride as we do, so they're giving us everything out there. And the game has gotten better, especially coming down to the championship game. We could not have asked for a better opponent in Spain. They have no reason to hold their heads low. They gave us everything they had. Unfortunately, there could only be one champion, but I think we both represented our countries well.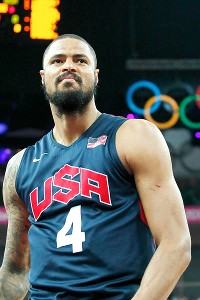 Christophe Elise/Icon SMI
Is another Olympics on the horizon for Tyson Chandler?
Just being around the different celebrations in London was moving. I watched the Brit, Mo Farah, run the 5,000 meters, and after he won, he fell down to his knees. You could see the work, desire and dedication that he had put in up to this point in the Olympics. That was one of the biggest moments for me in the Olympics, and that expressed everything.
Coach Mike Woodson came out there and said hello to me and Carmelo Anthony, and he watched a couple of games as well. He was out there for a few days before the gold-medal game. It just shows his dedication to his players. He wanted to talk to us and see how we were feeling. He also wanted to express his wanting to win this year with the Knicks to myself and Melo. It was definitely good to feel his support.
THE ENCORE
I want to play again in Rio de Janeiro in 2016. I loved my experience this summer. Rio is four years from now, so I'll give my time to let this gold medal soak in. But this was one heck of a ride. I'll see where I'm at four years from now. But I'll tell you one thing: It's pretty hard to turn down the Olympics.
Thank you for checking out my Olympic diary! You can follow me on Twitter @TysonChandler and check out my website TysonChandler.com.
For Tyson's earlier diary entries, click here.
You can follow Jared Zwerling on Twitter.