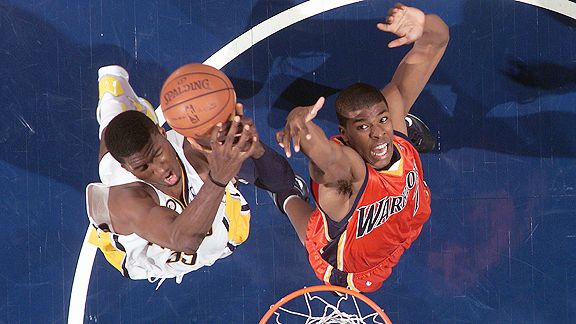 Ron Hoskins/NBAE/Getty Images
Kelenna Azubuike ranks as one of the top rebounding two guards in the league.
The second of three posts on the players the Knicks acquired from the Golden State Warriors.
The Amare Stoudemire signing will go down as the Knicks' biggest splash this summer but the haul from Golden State in the David Lee deal could mean just as much to the win column. And Kelenna Azubuike is a big reason why.
Azubuike, 26, joins the Knicks after a 2009-10 season that was cut short due to a fluky and equally horrifying knee injury in the ninth game of the season. The diagnosis was a torn left patella tendon and even though the injury happened back in November, there's a chance he won't be fully recovered from surgery in time for training camp.
But when he's healthy, Azubuike provides the Knicks with some much-needed depth at the shooting guard position with a real shot of beating Wilson Chandler for the starting gig. Why? Simply put, Azubuike can shoot and Chandler can't.
Azubuike boasts a career .409 3-point percentage in his four seasons in the league, giving the Knicks a far superior spot-up weapon on the perimeter than Chandler who had a miserable shooting campaign last season. Among qualified wing players, Chandler shot a league-worst 28.1% on his 89 open catch-and-shoot jump shots last season according to video data from Synergy Sports Technology (the average shooter posts about 42% in such situations).
Sure, Chandler can create off the dribble and look smooth doing it but Azubuike's spot-up game is tailor made for Mike D'Antoni's system that relies on kickouts from the pick-and-roll. This is not to say that Chandler, 23, can't develop a 3-point shot down the road but the Knicks won't exhibit as much patience going forward now that they have some efficient alternatives. Stylistically, Azubuike gives them what they need and now.
What's more, despite a 6-5 frame, Azubuike ranks as one of the top rebounding two guards in the league thanks to his strength and toughness in the paint -- but it doesn't hurt that he wields a nearly 40-inch vertical leap. The average shooting guard, according to Hoopdata.com, grabs seven percent of available rebounds but Azuibuke has collected nine percent over his career, not to mention six boards per 36 minutes of playing time. In other words, he's not grabbing rebounds because there are more missed shots in the speedy style of Warrior basketball -- he can really pull them down.
The former Kentucky Wildcat can also function as the late-game stopper the Knicks sorely need at the guard position. Azubuike was the diamond in the rough in Golden State, often assigned the opponent's top scoring threat on the perimeter. By using his toughness and lateral quickness, Azubuike was one of the league's top isolation defenders in his last full season in 2008-09, holding his man to just 0.70 points per possession on isolation sets (league average is 0.86 PPP).
All in all, Azubuike's a fine rotation player and has the chops to start in New York where they need a true two guard. But it all comes down to the stability of his left knee. Above all else, he'll need to prove his knee is fully recovered from months of rehab if he wants to beat Chandler for the starting spot. Azubuike should thrive in D'Antoni's uptempo system and he'll provide some competition for shooting guard minutes along with Chandler and Bill Walker. It would be a shame if his knee injury sidetracks an otherwise promising career, but with an expiring contract, the Knicks can cut bait after the season without long-term salary repercussions. On the hook for a little more than $3 million next season, Azubuike is a low-risk investment who could really surprise on the big stage.
Tom Haberstroh is a regular contributor to ESPN Insider and an NBA analyst for Hoopdata.com. You can follow him on Twitter: @tomhaberstroh.