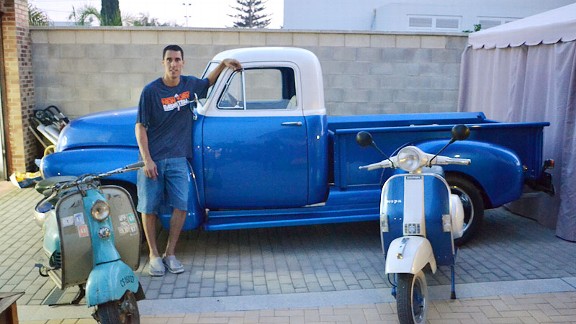 Courtesy of Pablo Prigioni
New Knicks point guard Pablo Prigioni fell in love with antique cars as a kid growing up in Argentina.
If you catch a 1962 or '64 Ford Falcon heading down the West Side Highway to Madison Square Garden this upcoming season, that could be new Knick Pablo Prigioni behind the wheel.
That ride is next on the point guard's wish list, one that started when he was a kid growing up in Córdoba, Argentina. That's where he fell in love with antique cars after he helped his father restore an old truck from 1960, the IKA Estanciera.
Through the years, Prigioni has had about a dozen antique cars and mopeds. He also likes to collect old items for his house, including a "write machine" (an old typewriter), a barber seat from 1940, old refrigerators and ancient things for his bar.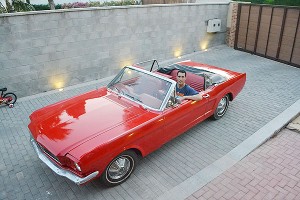 Courtesy of Pablo Prigioni
Prigioni with his 1965 Ford Mustang convertible at his home in Alicante, Spain.
Today, he owns two antique cars (a 1953 Chevrolet pickup and 1965 Ford Mustang convertible) and four mopeds (a 1954 Puma 2 Serie, 1957 Lambretta 125cc, 1966 Lambretta 150cc and 1981 Piaggio Vespa 200cc). He keeps them at his main residence in Alicante, Spain, where he played two of his 17 years of international basketball.
"I drive every day when I'm in town, but much more when I'm on vacation and when I have free time," Prigioni told ESPNNewYork.com. "I enjoy driving a lot. I love it."
Prigioni doesn't just purchase antique cars. He looks to restore them to their original style, without altering any parts. For only his 1953 Chevrolet pickup, he changed many things, including its engine (350 V8 horsepower), power steering, individual suspension, disc brakes front and rear, and five-speed manual transmission.
"It's my favorite car, especially because my wife bought it for me for Christmas in 2006," he said. "I rebuilt it like new during the last five years."
He had previously used a company in Alicante to customize his cars. But now, he goes under his own hood.
"Because they took too much time to restore my cars, I decided to open my own shop to do it," he said. "I've been doing it for the last four years. I also do work on my cars out of my house."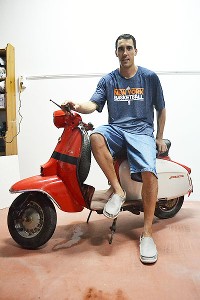 Courtesy of Pablo Prigioni
Prigoini with his 1966 Lambretta 150cc moped.
Prigioni is so committed to buying and restoring antique cars that he's a member of a classic car club in Vitoria, Spain, and he's planning to enter his bodies of work into competitive shows. He's already been recognized on one Spanish show for his former Volkswagen Escarabajo (the Beetle in English).
"I'm hoping for a bigger media experience," he said.
Speaking of bigger, he said his dream car is the "Eleanor." It was the 1973 Ford Mustang Mach 1 featured in the 2000 feature film, "Gone in 60 Seconds," starring Nicolas Cage.
"It's wonderful," he said.
Prigioni usually uses different car websites, magazines and TV shows -- his favorite is "Overhaulin'" -- to discover new cars he wants to buy. But he thinks coming to New York City will give him an easier time to find that rare Ford Falcon. He's also hoping that he gets to meet his idol, Chip Foose star of "Overhaulin'."
"Maybe I'm a lucky guy and living there I can meet Chip, and he can give me some good ideas," said Prigioni, who plans to live in White Plains, near the Knicks' training facility. "And maybe one day, I'll buy my 'Eleanor.'"
If Prigioni is always the first player to arrive at the Garden, we'll know why.
You can follow Jared Zwerling on Twitter.