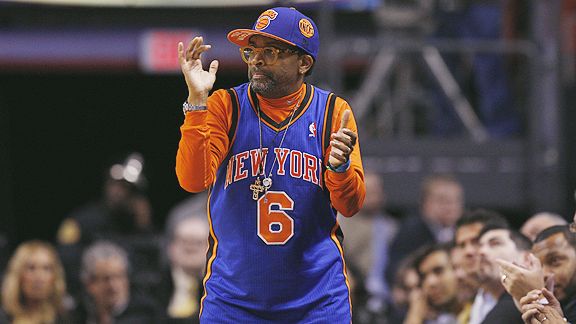 AP Photo/J Pat Carter
Spike Lee calls Landry Fields "Muddy Fields" because the rookie "doesn't mind getting dirty."
The Lakers may have actor Jack Nicholson sitting courtside, but the Knicks have filmmaker Spike Lee, who has set the bar high for a celebrity sports fan:
• He doesn't simply attend nearly every home game; he shows up wearing a game-worn Knicks jersey.
• He doesn't simply stay seated and clap after a made basket; he routinely stands up and talks to the opposing team's players. In fact, his legendary interaction with Reggie Miller was partly the focus of one of ESPN's "30 for 30" documentaries, "Winning Time: Reggie Miller vs. The New York Knicks."
• And how many celebrity sports fans show up in the paper for reportedly helping their team bid for a superstar player (New York Post)?
Speaking of which: With just more than two weeks to go before the trade deadline, the Knicks appear to be turning up the thermostat to acquire Carmelo Anthony. The Knicks hired former Nuggets executive Mark Warkentien as director of pro player personnel and league sources have told ESPN that the Knicks, Nuggets and Timberwolves are discussing a trade that would send Melo to New York.
So what does Spike have to say about all this? He shared with me his thoughts on the Knicks' campaign and any changes they need to make, as well as his admiration for Landry Fields and Walt Frazier. Lee also reveals the one player who trash-talked to him worse than Reggie. Read on:
What are your thoughts on the season so far?
I'm very happy with the season. With the feeling at the Garden, you would think that the Knicks are undefeated this year. New York's energized about the Knicks. I have faith in Donnie Walsh that he's going to do the right thing for the team and the organization. We'll see what's going to happen before the February 24th trade deadline.
Is there anything you think the Knicks need?
Unlike a lot of people, I don't think we need a backup point guard because I like Toney [Douglas]. Look, it's all about Carmelo -- and right now, it's a staring match between Donnie Walsh and the Nuggets, and we're going to see who blinks first. I haven't spoken to Donnie, but I think he feels he's not going give up the whole team for Carmelo. So we'll see; it's going to be interesting.
I've got to ask you about Landry Fields. You rock his No. 6 jersey at nearly every home game.
Yeah, that's my man. Even [Lakers small forward] Ron Artest has mad love for Landry, and he has love for the Knicks. He'd still like to play for the Knicks. [Artest] still can't believe that the Knicks drafted Frédéric Weis instead of him [in the 1999 draft]. Ron is New York, Queensbridge. He's always going to represent New York.
People are asking me, "Do you have a nickname for Landry?" I've got one: Muddy [laughs]. There's Muddy Waters; now we've got Muddy Fields because he doesn't mind getting dirty, doing the little things. Muddy Fields. I asked Landry, "You like that?" He said, "Yeah, whatever you want to do Spike; whatever you say, I'm good with you."
Well, you're like the godfather and No. 1 voice of all Knicks fans.
Nah, that's Walt Swishin' and Dishin' and Coastin' Frazier. At the Mavericks game, I told Clyde, "You've got to start pumping that. Muddy Fields." [laughs].
What's the most eclectic suit you've seen him in?
He has a plethora of them [laughs]. That's my man, though. Growing up in Brooklyn, New York, he was one of my heroes and still is.
Before Landry, what players' jerseys did you wear and why?
Nate Robinson, [John] Starks. I like to get the game-worn jerseys. I loved Patrick [Ewing], but his jersey would have been down to my ankles. Also, for me to wear his jersey, he doesn't have to be the best player on the team. Like with Nate, I identified with his hustle and I was almost as tall as him [laughs]. Nate had heart. I still feel that we gave him away, though.
A bit of Nate is in Landry, whom Mike D'Antoni calls the team's "glue guy." What's interesting is that Fields is averaging 10.2 points on only 1.7 free throw attempts per game, but he's neither a consistent slasher nor shooter at this point. He's scoring with his intangible playmaking, which is unique for a rookie. That really speaks to his potential.
Yeah, here's the thing about Landry -- I guarantee this. What Michael Jordan did every summer was work on a facet of his game. Michael could not shoot the way he did in his later years. Then, I remember one [playoff] series after he got beat up by the Bad Boys [the Pistons]. He said, "I've got to get stronger." Some guys come in the league and that's who they are and they're not going to get better. Guaranteed, every summer, Landry's going to be working on another facet of his game. He's going to be working on his outside shot during the summer. So that's my man. Muddy [laughs].
What's your most memorable conversation with a player during a game?
This is really surprising, and this is all true. The only time that it's ever really gotten nasty was with Reggie Miller. But we were friends before that and we've been friends since then. When I go to the games, it's to have fun. I'm respectful. If I say a player missed a shot, that's not talking about your mother, your family; it's all good nature. The players enjoy talking to me and I enjoy talking to them.
But this last time against Boston -- you know that game where they disallowed Stoudemire's 3? -- Kevin Garnett lost it. He was cursing me out for no reason. Maybe because Stoudemire gave him 39 points, but take that vulgarity to Stoudemire. I'm not holding you and I did not even say s--- to Garnett the whole game. That really surprised me. He lost it. He was cursing at me the whole game. He needs to calm the f--- down.
Well, you know what? It came back to bite him in the butt because STAT is starting for the East in the All-Star Game and KG is not.
Next time they come -- [Spike checks the Knicks' schedule] -- is on March 21st. So look, I don't like the Celtics, but I respect Doc [Rivers]. Doc's a good friend. You know I love Ray Allen. I hate the Celtics, but look, they've got good guys on that team. I've got friends on that team. Nate's on the team. But Garnett needs to calm the f--- down. There's no reason he should be cursing at me the way he did the last game. So you can put that in the article. It was disrespectful and I would never do nothing like that to him.
That's crazy. Garnett has definitely had his share of temper tantrums -- no question about that.
I'm not even playing and I didn't say nothing to him the whole game anyway. So if you're mad, start cursing out STAT, Stoudemire. But you're not going to do that s--- because Stoudemire's not going to take it. So he cursed at me and I'm 5-6½, 150. What he was saying was worse than Reggie Miller. It was uncalled for.
We'll all be ready for that next game.
I'm going to get him that time.
The interview will conclude with Part 2, where Spike and I discuss his involvement with MSG Networks' celebration of Black History Month, the African-American athletes who inspired him and issues that still concern him in the black community. Stay tuned.
You can follow Jared Zwerling on Twitter.