Walt Frazier is 67 years old, 32 years removed from playing in the NBA, but he's probably more active now than he's ever been. He works out every day, shops excessively (who doesn't know that?), manages his own restaurant, does real estate in St. Croix, stays involved with his youth foundation and recently started writing a new book (more on that below).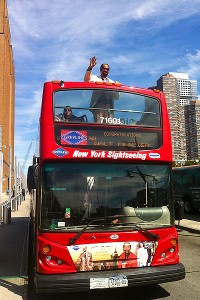 Jared Zwerling/ESPNNewYork.com
Walt Frazier toured Manhattan in a double-decker bus on Wednesday.The Knicks legend and MSG analyst also continuously enjoys making appearances around New York City, like one Wednesday at New York City's Pier 78, where his likeness was unveiled on a double-decker sightseeing bus. Gray Line New York was celebrating Frazier's induction into its "Ride of Fame" campaign, which honors exemplary New Yorkers. Afterwards, Frazier rewarded a few lucky Knicks fans with a ride around the city.
After chatting about the Knicks, ESPNNewYork.com dived into what Clyde really knows best: the cool stuff. Here's the second part of the conservation, touching on cars, fashion and healthy living:
Q: How did this opportunity come about?
Frazier: (Gray Line) told me they had (Donald) Trump, Whoopi Goldberg and Bernadette Peters, so to be one of the first athletes to grace the bus, I was feeling pretty excited. I've been percolating (laughs).
Q: You've obviously had a lot of cool things happen to you in New York City. Where does this rank?
Frazier: It's ranking right up there with my restaurant. I haven't played the game in some 30 odd years, so it's a real blessing that Knicks fans have embraced me so much and still do.
Q: So let's say you're driving this bus for Knicks fans. What stops are you making?
Frazier: Seventh Avenue and 34th, and my restaurant, of course (laughs). Mohan's Custom Tailors, where I get my clothes, at 42nd Street and Vanderbilt, right by Grand Central. Also, down on Delancey Street where my boot guy is, and right by the Garden at 36th Street where my tie guy is.
Q: What's your ride of choice these days?
Frazier: I actually have one of those Jeeps, but I'm going to start looking for a Rolls. I think I'm going to step out a little bit more (laughs).
Q: A Rolls from the 70s?
Frazier: Nah, nah. I like the new ones. But it's the color, because I told one of my buddies. He's a collector. He goes, "Clyde, you know most of them are gray and black?" I go, "Aw, man" (laughs). I gotta have some pizazz. Originally, that's why I never had one as a Knick because the colors were too mundane. But then the collector told me, "Hey, man, you can paint it any color you want." Mine back then was antelope and burgundy. That's the color I painted it. The interior was a tan leather. But something was still missing, and then I put the big fat white walls on the tires. Then I was like, "All right, now we're talking."
Q: So what's next for you?
Frazier: My Knicks contract is up, but we're negotiating. I'm hoping to do that as long as I can, hopefully four or five more years. And then dealing with my restaurant. My other thing is I'm concerned about our youth and obesity, and bullying in schools. I have my Walt Frazier Youth Foundation, so I'm going to become very active in going into the schools and talking to them; not only about education, but now physicality -- getting out, getting off the computer all the time. I just saw this thing yesterday on TV. They were saying by 2030, half of New Yorkers are going to be obese if they don't change their diets and exercise habits. That's crazy in a city like New York where a lot of people walk. So if New York is going to be that way, what's going to happen in these other cities where no one walks and everybody's driving. I'm actually working on a book on this.
For Part 1 of the interview, where Frazier dishes on the Knicks, click here.
You can follow Jared Zwerling on Twitter.