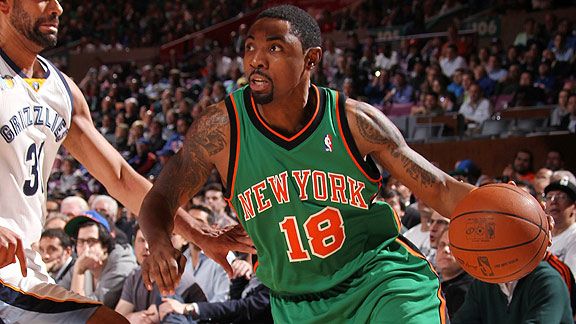 Nathaniel S. Butler/NBAE/Getty Images
Roger Mason came to New York after two seasons with the San Antonio Spurs.
Growing up, music for Roger Mason Jr. was a stress reliever and mediation tool. Any time he found himself in an uneasy situation on the basketball court, he would ultimately turn to the keys to zone out and get his mind right.
That's exactly how Mason Jr., a classically trained pianist since his youth, remained positive during the first five months of the season when he played very intermittently -- even at one point not hearing his name called in 20 straight games from mid-January to the beginning of March. He also channeled his spiritual energy to stay strong.
"People always kept asking me throughout the year, 'What did you do not to play? And while you're not playing, how are you dealing with it? You're a guy who started for the Spurs, and you're coming to a team that's not on paper as achieving as that team, and you're not playing,'" Mason said.
"And I said, 'Honestly, it's my faith and it's music and it's being able to listen to [music duo] Mary Mary and being uplifted. Because otherwise, it'll be tough for me to come in every day knowing that I feel like I should be on the court, and I'm not.'
"They always talked about me being such a pro, but it's more so my spirituality. The three weeks that I was playing [in March], I was pumping Mary Mary hard."
Turns out, Mason Jr. is plugged into music more than you think. Two years ago, he founded a music label called Weight Records and recently he -- according to a conversation he had with commissioner David Stern -- became the first NBA player to sign a joint venture deal with a major label, Universal Music Group. Now, he's about to join the board of the Rock and Roll Hall of Fame Foundation.
I spoke with Mason Jr. to find out more about his love for Mary Mary, his musical exploration through the years and his groundbreaking partnership with Universal. He revealed that it's actually very challenging nowadays for an NBA player to cross over into the entertainment field. Read on.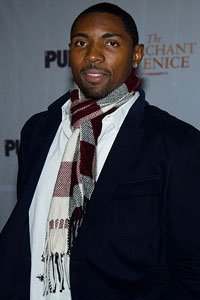 AP Photo/Charles Sykes
Roger Mason, shown here at the opening-night performance of "The Merchant of Venice" on Broadway, has interests that extend far beyond the basketball court.
Tell me more about your connection to Mary Mary.
I'm a spiritual guy. I love Mary Mary. She's gotta song called "Get Up." The whole premise of the song is you got 24 hours in a day and you got to make the most of it, whether you're going up to that at-bat. I listen to it before the games because I'm like, "Man, there's nothing guaranteed." And that song is just really inspiring -- it really is.
Have you been able to meet her yet?
I haven't. I want to. My mom is on a cruise right now with Mary Mary, Yolanda Adams and a few artists.
Who are some of your other favorite musicians, then and now?
Man, I loved Michael Jackson growing up. Absolutely loved him. My mom was a big Prince guy, so I listened to Prince growing up. Those old-school guys. Now I listen to pretty much everybody. I like John Legend, just from his classical background. I love Alicia Keys. Those artists are inspiring.
How did you first get introduced to music?
When I was young, both my parents always heard me in the house singing and enjoying music, so they put me in piano lessons when I was like eight. And so I took lessons for like probably seven, eight years, and became a classically trained pianist. And then it's kind of taken wings since I've been in the league. I dabbled in music maybe five, six years ago and then seriously two years ago I started a [music] label called Weight Records and now I'm one of the first -- I talked to David Stern about it, and I think I am the first NBA player to get a joint venture deal with a major [music] label. We signed with Universal Music Group.
What's the business plan now?
We have an artist that we share, Universal and my company. We have a single coming out [called "Outer Space"]. So basically Universal has to agree and I have to agree, so it's a genuine joint venture, which is cool. The single will probably come out around the summer time. Mr. Stern was pretty excited that I'm the first NBA player to get a serious music deal with a major label.
What's your role? Will you also be performing?
No, I'm the CEO. We have a team in place, and I pretty much just oversee everything.
Who is the artist?
Her name is CeCe Segarra. She performed the national anthem for the Knicks game on Christmas Day; she did the Spurs game last year. She's done so many shows, she's done a lot of stuff -- stuff with All-Star Weekend in L.A. She did the national anthem for the D-League All-Star Game. The NBA's been plugging her in. I think it's kind of cool.
How did you discover her?
My partner, [Omari Ware], met her. My partner does it full-time. I'm more involved during the summer; the season is tough. But during the summer, I'm pretty hands-on. I'm in the studio. Since I have a background in music, doing all those things is fun.
Will you produce any tracks?
I do that more so for fun. It's just something that I enjoy, but who knows?
Back to your earlier days. Were you parents all about music?
Yeah, both of my parents loved music; they always played it around the house. At first, the learning part of it, as far as notes and all those things, I didn't really enjoy, but I'm glad I did it because I have a strong background in it now. And I can still play. I'm not obviously as good as I used to be, but I still can play by ear.
Besides piano, did you dabble in different instruments?
Nah, I was more piano. My brother played the drums and my sister played the clarinet. My other sister was a guitarist. So we just always used to play church, play band.
When you went to Virginia, did you continue playing piano?
When I went to Virginia, it was interesting because my first year at Midnight Madness, they found out I played the piano and I did a duet with Bruce Hornsby. That was really cool. I also did openings for our games. It was just a little fun stuff.
Any of that on YouTube?
This was back in 2001. YouTube wasn't big [laughs].
Have you gotten any of your teammates fixed on classical music?
You know what? We had so much turnaround with different guys. Some of the other guys kind of knew, but most of them know that I'm quietly involved. My whole thing was my first two years doing the music, I didn't want anybody to know I was involved because what happens is, as an athlete, there's been so many times that athletes have tried to dabble in music and it's just not respected. People look at it like it's just not real, so my thing was, "OK, we're going to start this company, but I'm not going to be involved at all. I'm going to let my partner be the face, and that's what we did."
You'd be surprised -- people in the game will try to overcharge you because they know you're in the NBA or they'll look at your project as it's not official. So when I took my meetings with all the labels -- because we got offered by Universal, Sony, Jive, everybody -- they didn't even know I played ball. So I went in, we had our presentation, we had all of our stuff together and they didn't know that I was an athlete. My lawyer told them a few months ago that I happened to play for the Knicks.
Did their perception change at all?
Well, the deal was done, so at that point I felt comfortable saying, "OK, I have some stuff I can bring to the table as well, not just my company, but me being an NBA player. I have ways of getting to a different demographic too." So now it made sense to tell them, and that's why I'm doing it. But before, the last two years I've just been completely quiet.
Typically for NBA players, is breaking into the entertainment business a hard hurdle to overcome?
Extremely. It's almost impossible. A lot of times, just because of guys trying to rap in the past, it's just not looked as legitimate. It's almost one of those things like, "OK, you're an athlete, stick to being an athlete." But with me, I grew up an athlete, sure, but I grew up a musician also. I grew up loving other things. It's a tough world to get into, and that's why I try to do it quietly.
After basketball, do you see yourself in front of music fans?
Me personally, no. I want to do more the business side. I'm also doing stuff with my foundation, [the Roger Mason Jr. Foundation] with music and sports and school. I'm about to be on the board of the Rock and Roll Hall of Fame Foundation with Bono, which is pretty cool. We're going to do our first event after the season. The business side is what I have more of an interest in, but my background is in it, so it's a love. It's not like it's work; it's like something that I genuinely enjoy.
You can follow Jared Zwerling on Twitter.