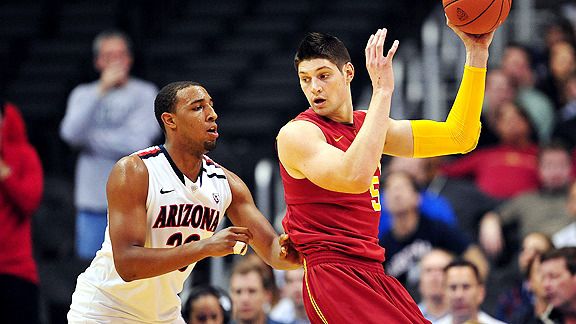 Gary A. Vasquez-US PRESSWIRE
Nikola Vucevic (right) put up very impressive numbers at USC last season.GREENBURGH, N.Y. -- If the Knicks make their first-round draft pick based upon on genealogy and/or projected longevity, they may have found their man on Tuesday.
Center Nikola Vucevic of Southern Cal was in the house, giving the Knicks a firsthand look at the player who measured taller than any other player (6-foot-11 3/4) at the NBA pre-draft camp in Chicago -- a 260-pound college junior who averaged a double-double (17.1 points, 10.3 rebounds) last season in the Pac-10, the same league the Knicks looked to in the second round a year ago when they plucked Landry Fields out of Stanford with the 39th pick.
Vucevic was born in Switzerland and raised in Belgium before he moved to his father's homeland, Montenegro, at age 13, before leaving four years later to spend his senior year of high school in Simi Valley, Calif. At USC, he played for former NBA head coach Kevin O'Neill and was teammates with DeMar DeRozan of the Toronto Raptors and Taj Gibson of the Chicago Bulls.
Vucevic's father, Borislav, was a teammate of Drazen Petrovic on the 1985 Yugoslavian national team and spent 24 years -- yes, 24, or three years more than Robert Parish's NBA career -- playing professionally in Europe.
And do you know how many games the elder Vucevic missed during those 24 years?
Zero.
"He really took care of his body, but I don't know how he did that," Vucevic told ESPNNewYork.com. "He ate healthy -- I remember that, because when you're a kid you don't like all those healthy foods, and me and my sister complained about it. A lot of vegetables and different stuff. He also rested a lot, iced his body, he did a lot of stretching and paid attention to warming up. As he got older he learned a lot about how to take care of his body."
The elder Vucevic played until he was 44, and Vucevic's mother, Ljiljana, played for the Sarajevo club Zeljeznicar as well as the Yugoslavian national team.
Vucevic was especially impressive in an earlier workout for the Charlotte Bobcats, dunking the ball in rapid succession -- using two balls, dunking first with the left hand, then with the right -- 100 consecutive times. Vucevic said he was disappointed with the way he shot the ball in his workout for the Knicks, who are still deciding whether they want to address their glaring need at center through the draft or through free agency.
Vucevic is ranked third among centers and is currently projected to be picked 25th overall by ESPN draft guru Chad Ford, whose Mock Draft 4.0 will be published on Wednesday. ("He is rising," Ford told me in a text message.) Vucevic is also slated to hold workouts for the 76ers and Nets, continuing a whirlwind tour in which scouts are trying to establish exactly what differentiates Vucevic from Turkish center Enes Kanter, who is projected as a top-5 pick. (One difference is their vertical leaps, with Kanter's at 28 inches and Vucevic's at 25 inches).
Among Vucevic's best skills are his inside-out game. Two of his more eye-opening measurements were his wingspan (7-foot-4 1/2) and his body fat percentage (6.1). The biggest knock against him is whether he has the toughness to compete against NBA centers.
He said when he was a teenager he tried to pattern his game after legendary Yugoslavian small forward Dejan Bodiroga, and since coming to America four years ago he has tried to emulate Tim Duncan.
"Coming here and making the change from European-style to American-style [basketball] helped me a lot and made me a lot better," Vucevic said. "I think if I was playing in Europe I never would have achieved the level I achieved playing college basketball. It was good for me because I kind of got a mix of both -- so I leaned to play tough, aggressive and hard all the time, play fast on defense, and I think if I put together my skill level and my aggressiveness and build on them each year, I could be pretty good."