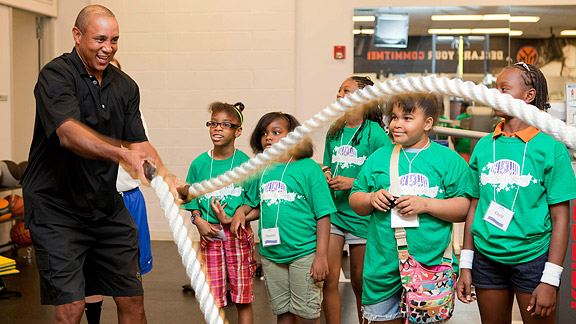 Courtesy of MSG Photos
Starks' quick hands as an NBA All-Defensive player helped out when he manned the jump ropes for 40 disadvantaged middle school kids taking part in the Garden of Dreams Foundation's "Dream Week."
If you think the Knicks training facility is quiet during a lockout, guess again -- especially not when the third-annual Garden of Dreams Foundation's "Dream Week" strolls into 711 Old Saw Mill River Road in Greenburgh, N.Y.
This morning, former Knick John Starks led 40 kids (ages 10 to 12) from SCO Family of Services, a Garden of Dreams partner, through the team's training facility. He played basketball, pool and ping-pong with them, and guided a tour of the locker room, player's lounge and weight room, where they met Knicks strength and conditioning coach Greg Brittenham. The kids also interacted with Knicks assistant coaches Herb Williams, Phil Weber and Dan D'Antoni, as well as ex-player John Wallace.
During Starks' busy schedule, which even included some jump-roping, I spoke to him about his involvement with "Dream Week," his summer plans and a passion you may never knew he had: cigars. We also reminisced about his offseason training during his NBA career.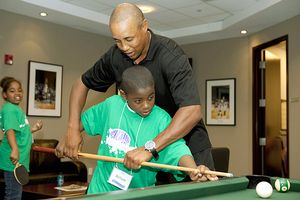 Courtesy of MSG Photos
Starks showed the kids how to shoot pool in the player's lounge at the Knicks training facility.
Zwerling: You've been involved with many youth events in your career. How was this one unique?
Starks: They're always special. A lot of these kids don't get a chance to interact and see guys, such as myself, [former Knick] John Wallace, [assistant coach] Herb Williams and the coaching staff. It always feels good when they get a chance to meet us and we can show them a little bit about the game of basketball. A lot of them come from disadvantaged homes, so this is a very special treat for them to be able to come to the practice facility and see where the Knicks, Liberty and Rangers work out and get better. They were extremely excited. They were just fascinated by what it takes in order for guys to get in shape.
JZ: What does it mean for you to be a part of the Garden of Dreams Foundation through your years with the Knicks?
JS: The Garden of Dreams Foundation was obviously set up to really give back to the community, because the community has given so much to us. This is a charitable way to help others who are in need and to give kids and adults the experience that a lot of them are not given -- come to a Knicks game, go to Radio City Music Hall and other venues that are under the MSG umbrella. It's always fascinating to see the smiles on their faces when they get a chance to meet the players and get the chance to tour the facilities.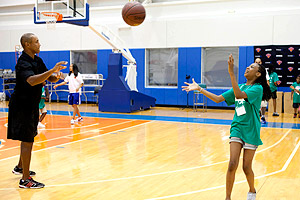 Courtesy of MSG Photos
Starks stressed fundamentals during the event's basketball clinic.
JZ: With the clinics, what skills do you stress to the kids at that age level?
JS: Just fundamentals. Basketball is a fun game, so we try to keep it fun and show them the fundamentals of dribbling, shooting, passing -- that type of thing.
JZ: Do you have any events planned for the summer with your own foundation?
JS: I had the bowling event in February as well as the casino-cigar night in the city in May at Hudson Terrace. Then we have a big finale with a golf tournament at Fairview Country Club in Greenwich, Conn., on September 13th. We have a lot of celebrities that come there for that. We've been very fortunate, very blessed, that we've been having great sponsors over the number of years that the foundation has been in existence. We're excited about the growth and where it's heading and what we're doing to help high school students realize their dreams and help them move on to college.
JZ: I know you're a big golfer and obviously golf and cigars go hand-in-hand. What are some of your favorite ones?
JS: I make my own cigars over in the Dominican Republic. I had been doing charity work over in the Dominican Republic with one of my business partners and just kind of fell into it actually. We have a factory over in Santiago. It's been going on for about three years now. We have the Dominican Legend cigar and a couple others. We have mild, medium and full-bodied cigars. I like the medium or full-bodied cigars. We actually have a lot of veteran cigar smokers smoke our cigars and they love them over a lot of the high-end brands that you're used to hearing about [Check out stamfordcigarlounge.com for more info].
JZ: How's your overall summer going?
JS: It's been very good, very rewarding. I got a chance to do some traveling. Cabarete is a spot over in the Dominican Republic. They're building a beautiful five-star resort over there called Amber Dune, which I'm a part of. I haven't gotten a chance to go anywhere outside of that.
JZ: You're like the president of the DR.
JS: [laughs] I'm pretty known down there. I feel in love with the DR after one of my business partner's customers, who's from the DR, asked me to come down to do some charity work with him there. It was a nice country. The golf courses are great down there.
JZ: Before I let you go, I wanted to reminisce with you about your offseason days training for the next season. What kinds of things would you do?
JS: Resting is first and foremost once the season is over with. You have to let things heal properly before you get back to training. I would normally take about two weeks off and then I'd just get into some light weight lighting. As the summer progressed, I'd pick it up a little bit more. I probably wouldn't touch a ball for about a month after the season was over with and sometime after that month, I would start going back and playing and going through my shooting drills and what have you. Obviously when the season approached, I just amped everything up.
JZ: Did you have a personal trainer?
JS: In the beginning, I didn't have a personal trainer; I just did it on my own. As you get older, you kind of need a personal trainer just to kind of motivate you a little bit more.
JZ: Any memorable pick-up runs you got into during the summer?
JS: I played in a lot of the semi-pro leagues during the summer and stuff like that. I played with a lot of Dallas players, like [former Knick] Larry Johnson and guys like that.
JZ: So what's next for you?
JS: I'll be working the Knicks camp that starts up next week and I'll actually be traveling over to China for the NBA tour. I'll be working a lot of clinics.
Today's event at the Knicks training facility was only one of many treats for the kids. This week, they will also enjoy activities planned by the Rangers, Liberty, MSG Networks, MSG Sports Properties, MSG Entertainment and Fuse at various locations throughout the tri-state area, including Radio City Music Hall, Red Bull Arena, Prudential Center and the USTA.
You can follow Jared Zwerling on Twitter.