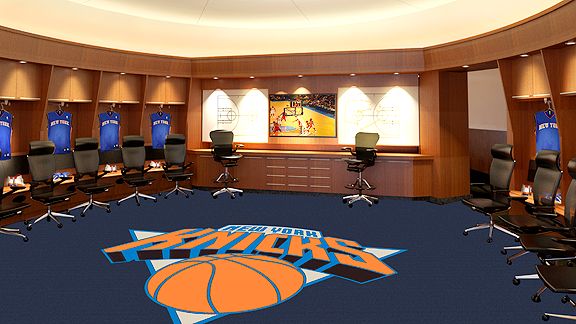 Courtesy of Madison Square Garden
The new Knicks locker room will be ready when Phase 1 of MSG's transformation is completed by opening night.
Up until recently, you could argue that the hottest "housing" market in New York City was located on Seventh Avenue between 31st and 33rd Streets in New York City. But not anymore.
That's because Madison Square Garden's new 20 event-level suites, which will be unveiled officially at the end of October when the arena reopens after massive renovations, are already sold out. As part of the upgraded lower-bowl concourse, the suites are actually right on top of the ice (for Rangers games) and eight rows back from the court (for Knicks games) -- a world away from being located above the 400 level. Hank Ratner, President and Chief Executive Officer of MSG, couldn't disclose the tenant names or price points except to say, "It's the who's who of corporate America."
This morning, Ratner, along with Joel Fisher, Executive Vice President of MSG Sports Bookings and Arena Transformation, and Barry Watkins, Executive Vice President of Communications, guided a private tour for approximately 20 members of the media to view the MSG Transformation Center and inside the arena. We started at the center, which includes an exact replica of one of the suites. They're about 700 square feet and offer what you would normally find in a spacious studio apartment in NYC: a large flat-screen TV, a couch, chairs, a dining table and kitchen. But the most surreal amenity about them is that their stairs lead right into rows of seats that are up-close to the action. It's something that you would never see in any other current sports arena.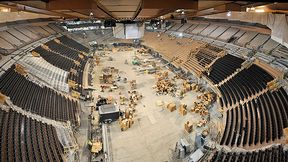 Courtesy of Madison Square Garden
A photo from inside of the arena taken today.
Afterward, we dressed in construction gear -- hard hat, glasses and a yellow MSG vest -- and we were led to the ground floor of the arena and then through different backstage areas, including the Knicks and Rangers locker rooms and the new Delta Sky360 Club (more on these below). Along the way, taking in the scene through observations and conversations, here are 10 things that jumped out at me:
24 hours a day, there are roughly 1,000 construction workers on-site at any given time. During the Rangers and Knicks seasons (if there is one), even the same night after a game, they'll be there working on future phases of the transformation, which won't be fully completed until the 2013-14 season.

The new concourses will be so wide that some areas will have views of Eight Avenue, and you'll be able to see sunlight shining in from your seat.

The lower-bowl concourse won't be the only roomy one in the arena. The upper bowl will feature a spacious area where you can grab food, socialize and still watch the game with no obstructed views like there were in the previous setup.

The lower-bowl blue seats are very comfortable to sit in, but if you're 6'0" (like me) or taller, your knees will be in for a tight squeeze. At least a game isn't a six-hour cross-country flight.

Input from Knicks and Rangers players were used in the design of the team's locker rooms. The consensus is that they wanted them to be shaped as a circle so they could feel together as a unit. (Previously, the Knicks locker room looked more like a "U.") In addition to having the Knicks logo on the carpet, the ceiling will be modeled after the actual MSG one.

Wondering where we, the media, are going to be sitting? A little further up in the former 100-level area. But, closer-up, there will be a new press area right near the locker rooms for reporters to quickly gather their interview notes and then write their stories.

Along with the suites, MSG Network commentator Al Trautwig's "Geico Studio Suite" Knicks pre-game show will move to the court level. In fact, he'll address local TV audiences right in front of the walkway where the players will jog out during introductions.

Near where Trautwig will be on-set, there will be the new Delta Sky360 Club, which will offer exclusive dining options and a view of the players entering and exiting their locker rooms.

I asked Ratner if any of the legendary Knicks players will be incorporated in the arena's design, such as "Clyde's Corner" where you could buy your very own mink coat and pair of gator boots. He said the overall idea of tying in the history of the Garden was "a great suggestion" and something they're actually considering.

The total renovations, which are funded by MSG, are estimated at $850 million, making it the most expensive transformation in sports arena history. According to Ratner, Phase 1 of the construction is right on schedule for a late October finish.
You can follow Jared Zwerling on Twitter.