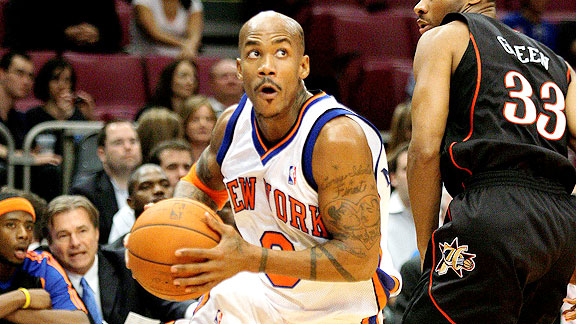 AP/Kathy Willens
After signing with the a new team in the Chinese Basketball Association, Stephon Marbury said the Knicks did him a favor by releasing him.
Shortly after announcing on Twitter that he'd signed with a new team in the Chinese Basketball Association, former Knicks point guard and prodigal New York son Stephon Marbury paid his former employer a back-handed compliment.
The Coney Island-bred Marbury tweeted on his verified account, "I thought the KnIcks and Datoni (sic) did me dirty but the really got me clean. GOD works out all things."
Head coach Mike D'Antoni would probably agree with Marbury's assertion that all things worked out.
Two seasons removed from Marbury's forgettable four-and-a-half year tenure in New York, the Knicks have emerged out of a salary cap mess back to respectability. That is thanks in large part to the efforts of Donnie Walsh, the ex-president, who negotiated a buyout with Marbury in the middle of the 2008-2009 season.
The buyout, as you recall, ended a mostly disastrous marriage between the Knicks and Marbury.
The Knicks highest win total with Marbury at the helm was 39. They made the playoffs once -- in Marbury's first season -- and were swept by Jason Kidd and the Nets.
Marbury also went AWOL from the team in Isiah Thomas' last season as coach. He then quickly fell out of favor with D'Antoni.
The former Lincoln HS star tweeted on Thursday that he signed a contract with the Beijing Ducks of the Chinese Basketball Association. The team has not yet announced the signing, though two league sources indicated that it is a done deal. According to the team's web site, one-time Knick Randolph Morris is on the roster.
The Ducks will be Marbury's third team in his three seasons in the CBA. According to a CBA source, Marbury was being courted by Foshan Dralions, his former team, but chose to sign with Beijing for less money to be in a bigger market. His contract is believed to be worth $100,000 per month.
Marbury last played in the NBA in 2009, suiting up in 24 games for the Boston Celtics.