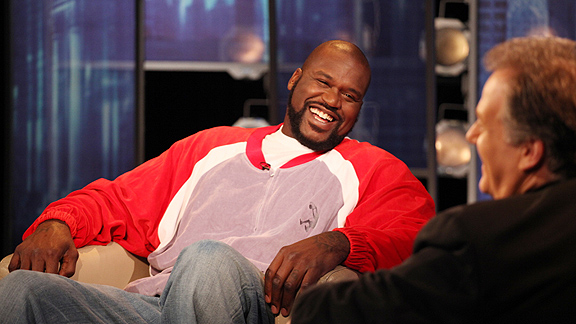 Ellen Wallop/YES Network
Shaquille O'Neal was his usual gregarious self during Wednesday's taping of "CenterStage" in NYC.
NEW YORK -- Former Knick and NBA coaching legend Phil Jackson, who has been rumored to be Mike D'Antoni's replacement ever since he stepped down from the Lakers, could make a third comeback. That's according to one of Jackson's most prominent ex-players, Shaquille O'Neal.
O'Neal, who was in New York City on Wednesday taping a segment for Yes Network's "CenterStage" show to promote his new book Shaq Uncut, told a small group of reporters to never rule out Jackson's return to the bench.
"He may come back," O'Neal said. "Phil always says he's never coming back."
O'Neal said Jackson "changed my NBA career," and that lasting impact would mean something to Carmelo Anthony and Amare Stoudemire. That's because Jackson has had plenty of experience managing and developing two superstars, and getting them to gel with each other, from Michael Jordan and Scottie Pippen to O'Neal and Kobe Bryant. O'Neal credited Jackson's scientific approach, from his demeanor to his routine, for how he became the Zen Master.
"It was his focus and the way he did things and the way he taught us how to do things," O'Neal said. "He did it on a cool, calm, respectable level. That's what I didn't like in Miami. We had problems with all the [yelling]. I'm like, 'I just won three out of four with this guy [Jackson], so why would I do it this way?' That's why we had problems.
"He's just so smooth and so calm. We knew he was a great coach. We all watched him with Michael. Obviously the guy knows what he's doing. We were saying, 'Well, we don't have Michael, but we have Kobe and Shaq. I think that's Michael-ish" (laughs). He was just a different guy. He came in one time with some stuff that he said was because of the weed. I'm like, 'Phil, I know what weed is' (laughs). He would burn stuff and we'd sit and meditate. The thing about Phil is that he did the same thing every day, and it worked and we believed in it."
As for the Knicks' Big Two, O'Neal believes they're going to make the team a beast in the East.
"I think they came together a little bit too late last season. They were gaining some momentum, but it wasn't enough," said O'Neal, who's currently recovering from Achilles surgery while pursuing a Ph.D. in a 48-credit Human Resources Development program at Barry University in Miami, Fla. "I think if they played a full season together then they will definitely be a team to be reckoned with in the East."
During the "CenterStage" show, which is hosted by Yankees play-by-play man Michael Kay, O'Neal reflected on growing up in the Greater New York area, his time spent in New York City, playing against the Knicks and his admiration for Patrick Ewing. Here are a few standout quotes:
On his youth in Newark, New Jersey: "There was a lot of love. We didn't have a lot of materialistic things. I took care of my mother and she took care of me. She never complained. I can remember my dad being like a manager type of dad. He always spoke to me as if I was a young man. Growing up during Christmas, I had a lot of sisters and they wanted Barbies, Barbie clothes, little kitchen cook sets. He couldn't get me the stuff I wanted, so he pulled me to the side and was like, 'Listen son, I've got to take care of the girls first, but next payday I'm taking care of you.' I was like, 'Dad, don't worry about it. It's all good.' That next morning, I woke up and he put a Dr. J basketball on my chest. It was autographed, but it wasn't the real autograph (laughs). That was the best day of my life. I was like eight."

On how he's giving back to his hometown: "Newark is a tough place to grow up. I have been going back, trying to rebuild the movie theater and things like that. What I would do if I was the mayor is I would give the police officers a raise, the teachers a raise. They have it tough. Right now, we're in a stressful situation, and we need to make that environment a little bit more fun for the kids."

On the Big Apple: "I love New York. It's the greatest city in the world, but the traffic here is ... (laughs). One of the ways I really relax is to get in the car and drive. I tried to drive last night and almost missed doing the show (laughs). It's a fabulous city. I've always loved to come here and play because if you play well in New York, that gives you confidence to think you can play well anywhere. The Garden, tough place to play, tough place to play."

On No. 33: "Kareem Abdul-Jabbar taught me the sky hook -- I'm cool with that -- but the moment I saw Patrick Ewing do the jump hook, that's what I wanted to do. Patrick Ewing was my guy. He and Hakeem [Olajuwon], though, were the hardest to guard."

On his only made 3-pointer in the NBA: "I want to say it was against the Knicks, but it was luck. I threw the ball in-bounds, I just threw it up and it went off the glass and went in. I think it was one of 300 (laughs)." [Editor's note: The 3-pointer actually came against the Bucks on February 16, 1996. For his career, he was only 1 of 22 from downtown.]
You can catch the full Shaq segment on Wednesday, December 7, at 8 p.m. ET. If the NBA lockout is resolved, Shaq will be on TV a lot this year, alongside the TNT basketball crew of Charles Barkley, Kenny Smith and Ernie Johnson.
Click here to read The Big AARP's thoughts on the lockout.
You can follow Jared Zwerling on Twitter.