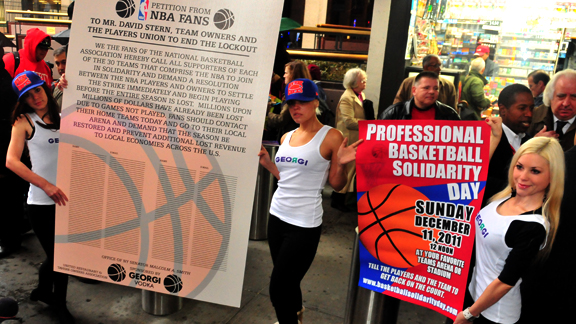 Jeff Skopin/ESPNNewYork
The Georgi Vodka Girls hoist a six-foot petition demanding an end to the NBA lockout.
NEW YORK -- Holiday season or not, there's one thing New Yorkers know how to say: We want our money back!
New York State Senator Malcolm A. Smith appeared with New York restaurant owner Paul O'Hurley and Georgi Vodka's Martin Silver to announce that Knicks season-ticket holders will ask for full refunds, with interest for the full season, if the NBA and the players fail to end the league lockout and return to the court. Representatives unveiled six-foot petition for Knicks and Nets fans to demand refunds.
The announcement was made to a gathering of media on Seventh Avenue, just outside of Madison Square Garden. There were no fans present, but representatives tried to gather signatures from passing New Yorkers, with occasional success.
Smith said that if the league and players cannot come to an agreement before Dec. 11, there will be a fan lockout called Professional Basketball Solidarity Day, in which people across the country will protest against the NBA at their local arenas.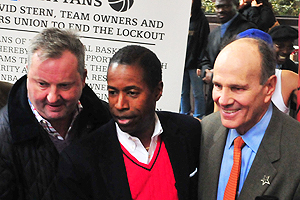 Jeff Skopin/ESPNNewYork
Left to right: Paul O'Hurley, NYS State Senator Malcolm A. Smith and Martin Silver.
"We're here to let them know that they're the 1 percent, and there's that 99 percent that wants to go back to work," Smith said. "The people that park cars, the ones that clean restaurants, those that wait on people in restaurants, the people that own restaurants are here to tell David Stern, Derek Fisher and Billy Hunter that they need to go back to work."
The Knicks have already offered ticket holders an option for a full refund with interest on games lost. The league announced last week that all games would be canceled through December 15, making it appear even more likely that the entire season will be lost.
Much of the talk has revolved around the lost revenue by the league and players but the losses trickle down well beyond that. Businesses, restaurants, cab drivers and even street vendors are all affected by an empty arena on what is supposed to be a game night.
"We're all hurting" said O'Hurley, who owns six bars on the Upper West Side, including PD Hurley's. "Basically we want everybody back to work. Play ball. That's what we want. The city is bad as it is between Occupy Wall Street and everything that's going on."
O'Hurley said that he's had to cut 20 percent of his staff because of slow business. His bars and bars across the city have been taking hits since last month's cancelling of the preseason. Silver, the owner of Georgi Vodka, does business with around 3,000 restaurants in New York City. That's 400,000 cases of vodka that would have sold if the players were on the court at the Garden.
Georgi is the largest-selling vodka in the tri-state area and Silver has been a Knicks season-ticket holder for 17 years. He couldn't remember ever missing a home game -- he sits in section 51 -- in 15 years. He figures that when the NBA turns the lights back on, people will return to fill the Garden.
"It'll take a year or two. People forget." he said. "Fans forget. If the Knicks start winning, fans will forget."