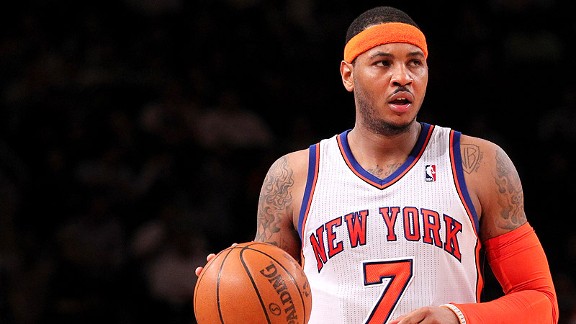 Anthony Gruppuso/US Presswire
Carmelo Anthony's been the Knicks' facilitator while the team waits for Baron Davis.
Mike D'Antoni has compared Carmelo Anthony's transition to a consistent point-forward to give the Knicks an advantage to how K.C. Jones orchestrated his 1980s championship Celtics teams with Larry Bird. But D'Antoni doesn't have to time travel that far back to establish why the comparison would work.
It's no secret that in today's NBA, head coaches want their best shooting guards/swingmen usually running the show to create mismatches and better spacing on the floor, which leads to more open corner 3's and lanes to the basket. Kobe Bryant in the Triangle; LeBron James in anything. Then there's Joe Johnson and Danny Granger.
So when D'Antoni opened training camp saying that the loss of Chauncey Billups would mean Melo would handle the rock more, it shouldn't have come as too much of a surprise. Whereas it's customary for Melo to first touch the ball 15 to 20 feet out, now he's bringing it up the court and facilitating. He said he's excited about his new role and using the preseason to feel out his new teammates' positioning in halfcourt sets.
"For me to have the ball in my hands and to run the offense, I kind of enjoy doing that," Anthony said. "I have a lot of guys that I can kick the ball to and make something happen -- get people in their position, get people in their spots and get guys where they feel comfortable at. That's something that I've been trying to do throughout this whole training camp."
So far, so good. Melo has shown he can delay his scoring mentality by seconds, in order to feel out the floor first off the screen before he shoots without hesitation, which has always been his game. It's the same ol' scoring Melo, but he now comes with an added degree of defender difficulty.
"He's doing a great job of playing point-forward," Amare Stoudemire said. "He's really, really doing a phenomenal job of creating space and keeping the floor open so we can make great plays out there. The game is starting to become easier for us. Once we figure out how it flows, we're going to be pretty good."
There have already been a few flashes of brilliance. In each preseason game, Melo was able to keep the defense on their toes off the screen and then split two defenders with a bounce pass to Renaldo Balkman for the one-hand dunk. In other situations, his ability to draw the off-defender allowed for quick passing around the perimeter to the shooter in the corner. Overall, Melo has seen the court open up more than George Steinbrenner's wallet, especially with Tyson Chandler in the lineup.
"It changes tremendously, man -- just having him to the roll to the basket, having Amare popping on the backside, Toney [Douglas], Landry [Fields] open on the strong side," Anthony said. "We have a lot of options out there on the court; it's just matter of us getting it down pat. That's going to take some time, but we've been getting better at that."
D'Antoni has to be optimistic, but he also knows there is a very cramped schedule ahead, which means his leading scorer can't expend too much energy dribbling the ball. While Douglas can go off in any game, like scoring 13 points on Wednesday, he's not a facilitator. And that's where Baron Davis comes in, reportedly sooner than later.
Hopefully his back feels the same way.
You can follow Jared Zwerling on Twitter.