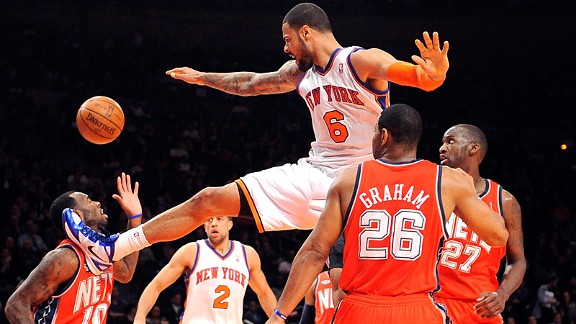 AP Photo/Kathy Kmonicek
With Christmas coming, the Knicks beat the Nets to end their preseason. So are they good to go?Normally, NBA teams have time to work out the kinks before the games start to count. They have a few weeks to establish a rhythm on offense, gain some cohesion on defense and get a general feel for one another on the court.
Not this year.
After just two preseason games, the curtains come up for the Knicks.
Are they ready?
"We ain't got no choice but to be ready for that game," Carmelo Anthony said of Sunday's Christmas Day opener against the Boston Celtics. "We've been waiting for a long time. We had a long offseason, a short preseason, we should be ready."
They should be, but are they?
After just two weeks of training camp, are they ready for the grind of a frantic, 66-game season?
"It's difficult," Tyson Chandler said. "You've got a player like myself coming in trying to learn a whole new defense and a whole new offense. We have to get the other guys to ... understand how to play with me and I have to understand how to play with them."
Chandler and Mike Bibby haven't had much time to learn Mike D'Antoni's offense or Mike Woodson's defense.
But Chandler, Bibby and the rest of the Knicks have no choice but to be ready for Sunday.
"We're going to take our bumps during the beginning of the season, but the one thing that we have to be consistent with is our effort," Chandler said. "That's not X's and O's. So while we're learning, we'll give ourselves a chance every night [with effort]."
The Knicks showed plenty of effort on the defensive end on Wednesday.
If there's any conclusion to be drawn from the preseason, it's that the Knicks should be vastly improved on defense with Chandler in the middle.
Last year, they allowed 105.7 points per game -- tied for the third-highest total in the league. They gave up an average of 45.4 points in the paint (fifth highest in the NBA) and were out-rebounded by 3.5 boards per game.
On Wednesday night, the Knicks held the Nets to 82 points (Sundiata Gaines hit a 3-pointer at the buzzer to get the Nets to 82). They also limited New Jersey to 40% shooting (15% from beyond the arc) and forced 20 turnovers.
"We did a great job defensively and that's the first thing we've got to get a grip on," Amare Stoudemire said.
Defense isn't the only aspect of the game the Knicks need to "get a grip on." And they only have three days (and two practices) to figure it out before the games start to count.
"It's tough," Anthony said. "Only two preseason games. But, hey, it is what is is. There's no need to cry over spilled milk. Just throw the ball up, we're ready to go."
You can follow Ian Begley on Twitter.