While former Knick Wat Misaka was glancing through the NBA box scores Tuesday morning, he noticed that Jeremy Lin's name was not included with the Warriors in their 99-91 win over the Bulls. What he didn't realize was Golden State waived Lin earlier in the month and New York claimed him this morning.
Sixty-four years since the Knicks made Misaka not only their franchise's first draft pick, but the first Asian-American in the NBA (then called the Basketball Association of America), Lin is now coming to New York.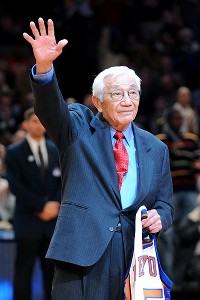 Kevin P. Coughlin/Icon SMI
Wat Misaka was not only the Knicks' first draft pick, but the first Asian-American in the NBA."I wish him luck," Misaka said Tuesday from his home in Salt Lake City, Utah. "I don't know exactly what kind of player he is, except for what I've read about him. I sure hope that he can stick. New York could be a great place for him, although Oakland would've been great too with all of the Chinese people that are in California. I think it was one of the reasons why they drafted him. He should have a big following [in New York] if he gets a chance to play."
Ironically, the Knicks play the Warriors on Wednesday night on the road, and Lin should get some immediate playing time. Since Baron Davis and Iman Shumpert are out with prolonged injuries, and Mike Bibby is still recovering from his lower back spasms, the Knicks were in the market for a short-term point guard. In a surprise move, the Knicks went with a young, untested player whose career average is 2.6 points in 29 games. Lin provides some skills and insurance at the one, but Misaka had a hunch the Knicks also signed him because of his ethnic background, a strong tie-in with New York City's large Asian population.
"It makes a difference," he said. "That's certainly one of the reasons why people draft players. It's not strictly about their talents, but their ability to draw fans."
Misaka said he hasn't met Lin yet, but he once tried to get in contact with him. When Lin was signed by the Warriors in 2010, after going undrafted and playing well in the Las Vegas summer league, Misaka wrote him a congratulatory letter to wish him good luck.
"He didn't know me, but I thought that he might have heard about me and maybe would get a little encouragement from words from me," Misaka said. "I'm wishing that he gets some playing time and gets some fans out there excited about a local boy kind of making good."
Misaka never heard back from Lin, but he would like to add one more word of encouragement: "Ganbare."
"It's Japanese for 'hang in there,'" Misaka said of Lin, whose contract is non-guaranteed, so the Knicks can waive him at any time prior to Feb. 10. "I'd like to just tell him, 'Hang in there, something good might happen.'"
For someone who just turned 88, and still works every day as an electrical engineer, that's saying something.
Stay tuned for more from Wat later this week, as he reminisces about his basketball upbringing, his Knicks and New York City experiences and what he's up to these days.
You can follow Jared Zwerling on Twitter.