NEW YORK -- Regardless of whether Knicks fans were salivating at the thought of watching Steve Nash run New York's offense, or whether Mike D'Antoni looked at Nash and envisioned "Seven Seconds or Less, The Sequel," Nash isn't thinking that far ahead.
"I'm still with the Suns and happily with the Suns," Nash said after carving up the Knicks for 26 points and 11 assists in the Suns' 91-88 win Wednesday night. "I've put everything I have into trying to turn this thing around and trying to see what we can do to get ourselves in back into contention. To be honest, with this condensed season, I've put all my focus into preparing to play every day."
The Knicks could go after the 37-year-old future Hall of Famer when he becomes a free agent this summer. It would be a perfect reunion for D'Antoni, who desperately needs someone to facilitate his pick-and-roll offense -- Nash was the maestro leading D'Antoni's up-tempo game from 2004-05 to 2007-08, when the Suns were good for at least 54 wins per season.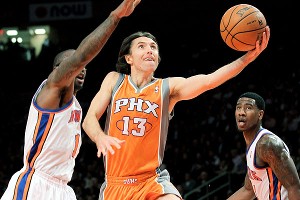 Anthony Gruppuso/US Presswire
Steve Nash scored 26 points on 9-for-12 shooting, dished out 11 assists and iced the game from the foul line.
But Nash said he is focused on this season and the rumors will have to wait to be answered, especially with the Suns just 5-9 and having gained their first win in six games.
"It's tough," Nash said. "[We played] Chicago [Tuesday night], get in at three in the morning and play tonight. To recover takes more than a couple cold beers and a nap in the afternoon. I'm working hard everyday just to try to get right every night and feel fit, and that's the main focus. In the summer, we'll deal with free agency, but right now I'm with the Suns and I'm not looking forward."
Nash was everything the Knicks didn't have on offense: someone to control the tempo and the spacing; a guy who can find his own shot and a shot for someone else. Baron Davis and the herniated disk in his back are still weeks away from being healthy enough to take the floor. In the meantime, pressure builds on D'Antoni, who is known as an offensive mastermind, yet the Knicks are shooting about 42 percent from the field this season and were 37 percent from the floor Wednesday night.
Nash said it will take some time for all the new players on the Knicks roster to jell, considering Davis' injury and the fact that New York amnestied its only pure point guard, Chauncey Billups.
"He's in a tough position, you know," Nash said of D'Antoni. "They've constantly changed and brought in new people, and now he's got all these new pieces. He hasn't really had the point guard he wanted, and hopefully Baron will get healthy.
"They gave away their point guard to get Tyson [Chandler] and fill up their frontcourt and have another guy to guard the interior, and now they're waiting for Baron to get healthy. So that's tough. It's tough not to have that balanced, full roster, so I do feel for them."
D'Antoni's former floor general wasn't as quick as others to place blame on the Knicks' guards.
"I think that's part of it," Nash said. "Melo hasn't been here long, so they're trying to find a chemistry. Obviously, he's playing well but I don't think they've found their rhythm collectively. It's easy to say, 'Ah, they need a point guard.' But I think there's a lot of factors that are slowing them [from] finding that confidence and rhythm, but I'm sure they'll find it."
You can follow Christopher Hunt on Twitter.