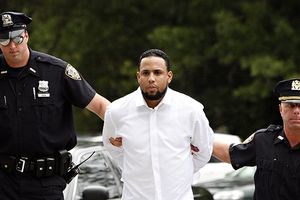 AP Photo/Jason DeCrow
Francisco Rodriguez is led into Queens Criminal Court on Aug. 12.
Francisco Rodriguez is scheduled to appear at the Queens Criminal Courthouse on Tuesday morning for a hearing regarding his third-degree assault and second-degree harassment charges.
Rodriguez is recovering from surgery on a right thumb ligament, which the Mets maintain was injured during a confrontation with the father of his girlfriend near the Citi Field family room.
The Mets have placed Rodriguez on the disqualified list and converted his remaining contract to unguaranteed. He is currently forfeiting his salary while unable to perform. However, the Players Association has filed a grievance on Rodriguez's behalf to try to recover all but two days' lost pay -- as well as to undo the conversion of the contract to unguaranteed. That hearing before an arbitrator is expected to occur in mid-October, union head Michael Weiner recently said.