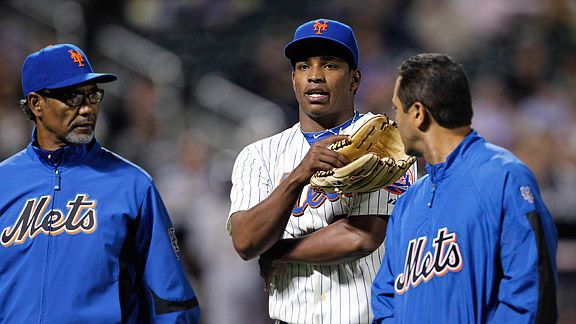 AP Photo/Kathy Willens
Jenrry Mejia is forced out of Wednesday's game in the third inning with an apparent shoulder injury.
Right-hander Jenrry Mejia, the New York Mets' top pitching prospect, left Wednesday's game against the Pittsburgh Pirates in the third inning after a visit from the team's trainers. Mejia motioned to his right shoulder while requesting medical attention.
The team announced he had an acute strain in the back of that shoulder. While Mejia also had an injury with the back of his shoulder that interrupted his season this summer at Double-A Binghamton, Mets pitching coach Dan Warthen said the rookie told him the injury was different. Mejia was receiving an MRI at the Hospital for Special Surgery on Wednesday night and was unavailable for comment, a team spokesman said.
Both catcher Henry Blanco and Warthen initially thought Mejia had landed improperly with his left leg during his delivery.
"I saw him flinch on the mound a little bit, so I ran out there quickly and asked him if he was all right," Warthen said. "Actually, Henry Blanco answered me, because Henry had seen basically the same thing and had already asked Jenrry Mejia. Henry Blanco told me [Mejia] felt like his shoulder was a little bit sore."
Said Blanco: "I thought it was something with his knee or something like that. I asked him, and he said, 'Something is wrong with my back.' It didn't feel right. ... I mean, he had good velocity. The last pitch came out of his hand pretty good. ... He told the trainer something doesn't feel right with his back and they took him out."
With only 18 days left in the season, it likely would be responsible to shut down Mejia for the remainder of his rookie year no matter the diagnosis, although Jerry Manuel made no such pronouncement postgame. Mejia has indicated he will pitch in the Dominican Republic this winter for Licey.
After working at the beginning of the season as a reliever with the major league staff, Mejia was demoted to Binghamton on June 20 to resume use as a starting pitcher. In his second start with that Eastern League club, pitching on three days' rest, Mejia was forced to exit with shoulder discomfort, which ultimately was diagnosed as a strain in the back of the shoulder. Mejia did not return to the B-Mets rotation for six weeks.
Warthen said he asked Mejia if Wednesday's issue was the same injury as the trouble in Binghamton.
"Absolutely not," Mejia replied, according to the pitching coach.
Mejia was making his third major league start Wednesday against Pittsburgh. He tossed two scoreless innings before walking opposing pitcher Paul Maholm and going to a 2-0 count on Andrew McCutchen with one out in the third. After bouncing the second pitch to McCutchen, the medical staff visited Mejia on the mound and he departed, having thrown 42 pitches. Reliever Raul Valdes entered and ultimately allowed Ronny Cedeno to score, so Mejia was charged with one unearned run in 2 1/3 innings.
The Mets have an off-day Monday, the next time Mejia's turn is required, so the spot can just be skipped. Otherwise, the candidates would need to be Pat Misch, Oliver Perez or Valdes.