Bobby Parnell said the elbow stiffness and inflammation that has caused him to be shut down for the season is no big deal. And if the reliever had his way, he would pitch again during the season's final week -- although Jerry Manuel has ruled out a return based on the doctor's orders.
"I want to be on the field," said Parnell, who was officially diagnosed with plica inflammation in his right elbow. "I feel like it's not a serious issue, which it's not. [Dr. David] Altchek said it's nothing serious. I want to be on the field."
Parnell said the prescription is rest, not a surgical procedure.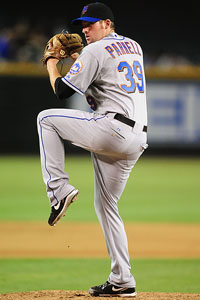 Mark J. Rebilas/US Presswire
Bobby Parnell is being shut down for the remainder of the season with elbow inflammation.
"They said the only thing that will help is resting it and icing it and taking care of it," Parnell said. "All it is is inflammation in the back of the elbow. It's not in a bad spot. I could tell my arm wasn't 100 percent. That's why I asked to talk to the training staff, and they sent me to the doctor and got the MRI.
"It's definitely from over the course of the season. It's just from pitching every day and being used. It's something I could have had a cortisone shot and pitched tomorrow if need be. I'm all for it, but they said that wasn't the case. ... When you go for an MRI, you never know what you're going to get. But everything looked fine. The ligament -- the UCL -- looked great. No bone spurs. No loose bodies in there. Really, it's a good MRI. I just showed some plica in there and some inflammation. Altchek said the only thing to do is to rest."
Parnell said the injury, which surfaced about a week and a half ago, mostly affected his location.
"Definitely location," he said. "My ball was starting to run back over the plate a lot. It was hard to get extended. I guess that's from the inflammation. My control wasn't there like I wanted it to be. I just wanted to make sure it was nothing serious, which it's not."
Manuel suggested Parnell has done a good job of throwing strikes since a promotion from Triple-A Buffalo, but that he doesn't necessarily know where it's going within the zone.
"When he gets all that under control and develops some command with that pitch, then you'll probably see the difference as far as a guy you can feel like, 'Hey, you can put him out there,'" Manuel said. "He's given up a home run here or there, but for the most part it's been groundballs or line drives. That means it is sinking, but it's sinking to the barrel more than anything."
As for Parnell's future, Manuel definitely sees him as a reliever for the remainder of his career. Parnell had been given an opportunity to start last season, and Manuel cited Parnell's offspeed pitches and inability to keep his velocity in the upper-90s mph throughout a long outing as obstacles to starting.
"For some reason, that velocity seems to come down," Manuel said. "And if that velocity comes down on a guy that has control [of throwing strikes] and not command [of where in the strike zone], then you can get in trouble."