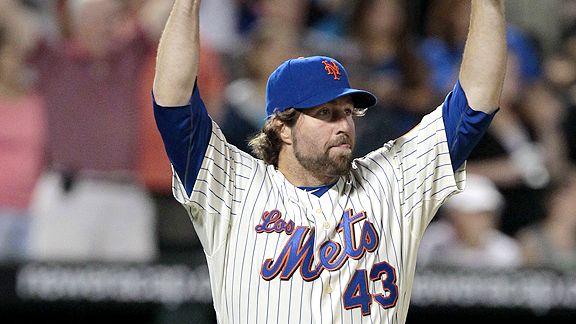 Frank Franklin II/AP
R.A. Dickey has been the best thing to happen to the Mets in 2010.
I'm making my pick for 2010 Mets MVP today because what happens the rest of the season doesn't have any impact on my choice.
I know that the stats will tell you that Angel Pagan, David Wright, Ike Davis, Jose Reyes, Johan Santana, and Mike Pelfrey all had higher WAR ratings (Wins Above Replacement, a stat that measures total value for those unfaimilar), but I'm tossing that stat aside for now.
My 2010 MVP should be the Opening Day Starter in 2011. He's starting tonight --R.A. Dickey.
Let's start with his statistical value. Dickey currently rates ninth-best in the National League with his 2.92 ERA, and rates fifth in the league in walks per nine innings (2.2).
This after willingly starting the season in the minors, where he was as good with Triple-A Buffalo, if not better, than he's been here.
R.A. Dickey
Career
Dickey has also established himself as the Mets best hitter among their pitchers, and he's actually been a valuable lineup asset. He's hitting .229 with five RBI, seven runs scored, and seven sacrifices.
That includes a stellar 5-for-15 with runners in scoring position, which could end up rating as among the best performances by a Mets pitcher in a single season in their history.
Dickey has also been fantastic at putting the ball in play, striking out only eight times in 57 plate appearances. His approach is very measured, and he's had several at-bats in which he's guided the ball successfully to right field. Not bad for someone who entered the season with five career at-bats.
But in order to articulate Dickey's true value to the Mets, I'm going to invent my own statistic. My colleagues in research have had some fun recently, using the WAR metric in various ways. Our favorites include GARP (Glisten Above Replacement Pizza) and PAR (Parm above Replacement) to evaluate meal choices. Using that as inspiration, I'm calling my metric STAR (Story Above Replacement)
In a season in which the news has gotten progressively worse on a daily basis (not anywhere near the extent of 2009, but the equivalent of an unfriendly cousin), Dickey has been the best story on the team. STAR gives him points for, among other things:
Starting the season in the minor leagues, with no complaints
Having his first legitimately effective season at age 35
Fitting in with team tradition by pitching a one-hitter instead of a no-no
Not wanting to come out of games despite potential injury
Being among the most articulate and interesting players in baseball
Given the options to read about player moping, bad manners, injuries, potentially criminal behavior, and endless managerial and front office speculation (all of which we're familiar with), Dickey has been the most pleasant story of 2010.
The reward for that should be an MVP billing, a nice contract for 2011, and a promise that he'll get the first turn to make the following season a positive experience.