Josh Satin was a late addition to the Mets' contingent with Mesa in the Arizona Fall League. Placed onto the taxi squad, which allows him to play Wednesdays and Saturdays, the infielder got off to a quick start Wednesday in his debut. Satin went 2-for-2 with two walks after arriving from the Mets' instructional league team in Fort Myers, Fla.
"The plan was for me to go play somewhere in Latin America, but nothing really came up during my time in instructs," Satin said. "They told me they were happy with my work ethic in instructs and it was a reward to come here."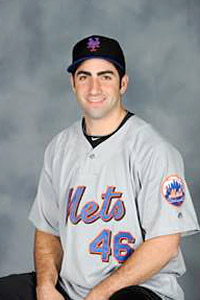 Courtesy of New York Mets
Josh Satin was a late addition to the Mets' contingent at the Arizona Fall League.
Satin, a sixth-round pick in 2008 from Cal-Berkeley, who hails from the Los Angeles suburb of Hidden Hills, split the regular season between high-A St. Lucie and Double-A Binghamton. He hit a combined .311 with 12 homers and 74 RBIs in 495 at-bats.
A natural second baseman, he saw duty at three infield positions after a mid-season promotion to the B-Mets -- second base (37 games), first base (34 games, primarily after Nick Evans' promotion) and third base (five games). He played first base in his AFL debut because Mesa's primary player at that position, Matt Rizzotti from the Phillies organization, had an injury.
"I'd like to be a second baseman," Satin said. "Obviously you're valued higher there. I'm the kind of guy that whatever will help me move up in the organization and get to the big leagues, I'm willing to do it. But when I went to instructs I worked at first, I worked at third, I worked at second. Wherever I play next year and in the future, I want to be able to do it."
As for his aptitude at the less-familiar positions, the 25-year-old, righty-hitting Satin added: "I would say I'm more advanced at first, only because I had those 40 games at the end of the year at Binghamton there. Game experience is definitely more valuable than groundballs and infield work. But I spent a year in college playing third [as a sophomore]. So I think I'm equally experienced there. But I would say at the moment, as far as aptitude, I'd go second, first, third."
Speaking of college, Satin was dismayed to learn his alma mater announced last month its intention to cut its baseball program after next spring's season as part of budget cuts. While the program has struggled, Cal is still a member of the Pac-10, and the Golden Bears have produced current major leaguers including Conor Jackson, Geoff Blum, John Baker, Xavier Nady, Brandon Morrow and Tyler Walker as well as retired Jeff Kent.
"I actually spoke to our head coach [David Esquer] the night before it got announced," Satin said. "We spoke for like an hour -- not about that at all. He didn't even know. We spoke about my plans for the offseason, if I could come up for the alumni game, could I talk to the players about pro ball, his kids, whatever. He had no idea. So the next day I get a text from a buddy that went to college with me. He said the program got cut. It didn't even make sense to me. I didn't even know what he was talking about. I think everyone was caught off-guard. I don't even know how to describe it. It's really strange and really upsetting. That program has done a lot for me and a ton of guys. It's sad that it's not going to be able to do the same for young kids that are there now. Ten years now he [Esquer] has been there and we haven't had a lot of success, but he's turned out top-five-round draft picks year in and year out."
Satin went undrafted as a junior at Cal, but returned for his senior season and improved to a sixth-round selection while earning a political science degree.
"Honestly, that was like the best thing that ever happened to me, not getting drafted," he said. "I was very ready to leave school. And I would have left if they would have picked me in who knows what round. I didn't really have a great season my junior year. Being a low [late-round] draft pick, you don't get as many chances to play right away and be a preferred player. And I didn't have as much confidence as I did after my senior year. Plus, I graduated, which was also nice. That was the best thing that ever happened in my career. If I would have gotten drafted in the 45th round [as a junior], then I would have signed and probably not been where I'm at right now. It's crazy to say, but not getting drafted was the best thing that happened in my baseball career."
Satin's baseball career includes consecutive All-Star selections -- in 2009 in the South Atlantic League, then this year in the Florida State League before his promotion to Double-A.
Satin had an eventful FSL All-Star Game. He committed an error trying to turn a double play with the bases loaded and one out in the seventh inning that put his squad in a two-run hole. Then, he tied the game with a two-run homer a half-inning later and won it in the 10th by driving in the go-ahead run.
"It was an interesting game for me," Satin recalled. "I didn't think I was going to play the whole game, and it was really cool to play the whole game. I threw the ball in the dirt turning a double play to give them the go-ahead run. It was weird. It was one of those games where there were so many people around and the best players in the league and you want to look good. I don't really get too high or too low in games, but I was pretty down and upset with it. It was nice when I hit a home run to make up for that error. And then the last at-bat there was a man on second and nobody out and it was extra innings. I was just trying to get the guy over. I tried to hit a groundball to second and I hit it hard and it found a hole -- one of those things. It was definitely a fun game and experience for me. It was something I'll definitely remember forever."