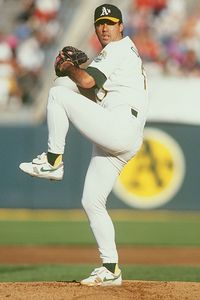 Otto Greule Jr/Getty Images
Ron Darling pitches for Sandy Alderson's Oakland Athletics in 1991.
Ron Darling is linked to the Mets, but he also spent five seasons as an Oakland A's pitcher, from 1991-95, while Sandy Alderson was GM of that franchise.
And Darling praises the hiring of Alderson:
"Sandy is a guy that you admire from the second you meet him. Without getting too crazy about it, he's one of those guys that you aspire to be. I had not known about his history when I first met him -- what he had done in his life, the Marines and all that kind of stuff. So I just met him as the GM. Two things rang true to me: One is that he's incredibly intelligent, which I'm always attracted to. But also, he's been a mentor for a lot of people who have gone on to bigger and better things. He played a big part in the maturation of Tony La Russa as a manager, Billy Beane, of course. Walt Jocketty. There are so many people he had a huge influence with. And, also, I think he served as a huge bridge between players and management. The Haas [ownership] family [in Oakland at the time] couldn't be any nicer. They were the nicest family you'll ever meet. Sandy was a great conduit between them and the players.
"His impact will be instant credibility, instant honesty. I think that if you ask a question he can't answer, he won't give an answer to it. If he can answer it, you'll get a thoughtful, honest answer. I also think he's got to be so comfortable in where he's at in his life right now. I mean, he's been a GM. He's worked for Major League Baseball. He's spent a lot of time in the Dominican Republic. He's worn so many hats by now that he really brings to the Mets, I would think, the most well-rounded general manager any team could ever have. The Mets are getting a baseball renaissance man, if you want to use those words. I've always been an admirer to him, and even when I wasn't pitching well always aspiring to make him proud.
"I think it's going to be a different type of regime. I think in Omar [Minaya] you couldn't get a nicer person as far as how he was to the ballplayers. This is going to be back to the old-school days, the Frank Cashen days. To me, when Frank Cashen called you into the office it was because you were in trouble. He knows how to be friendly to the players, but I think his job is going to be, first and foremost, putting what he thinks is going to be the right mix and match.
"You watch all these teams in the playoffs and the World Series, you don't need a lot of tweaking to make it work. If you look at the Giants and the Rangers teams, I think in the past you've had teams that disliked each other and won. I don't think that can work in today's game. I think you really need to have those kind of misfits the Giants have, kind of have the silliness the Rangers have, the camaraderie with the ginger ale. It was less important in tougher times when athletes appeared to be tougher -- not tougher as far as playing, but as far as being more grittier. I think it's important for teams to like each other, and I think that Sandy will have an opportunity to maybe make five or six moves that will get the Mets to a certain place, especially now that somewhat of a shine is off the Phillies."