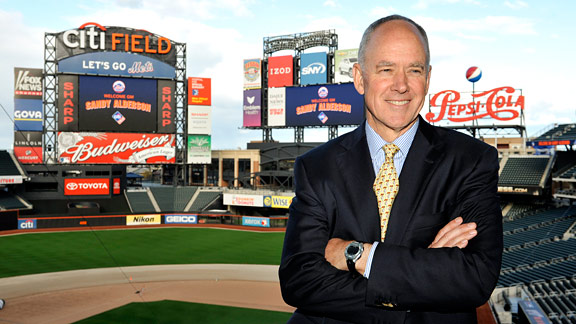 AP Photo/Kathy Kmonicek
Sandy Alderson poses with Citi Field as a backdrop after his introductory news conference.
Here are major topics from Sandy Alderson's nearly half-hour conversation with reporters after the formal news conference, and an equally lengthy session with Fred and Jeff Wilpon: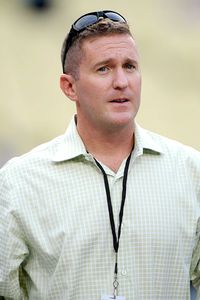 Kirby Lee/US Presswire
The Wilpons said GM finalist Josh Byrnes (above) lost out to Sandy Alderson only because he's 22 years younger.
• GM Search. Fred Wilpon insisted the process was open, not a foregone conclusion from the outset, and that commissioner Bud Selig advocated both finalists -- former Arizona Diamondbacks GM Josh Byrnes and Alderson. The Mets' principal owner added that the deciding factor in choosing Alderson was his 22 more years of life and professional experience compared with the 40-year-old Byrnes'.
"Contrary to what people said, this was a process," Fred Wilpon said. "I think Jeff framed with John Ricco the process very well. [Team president] Saul [Katz] and I then joined Jeff. There wasn't a slam dunk. The other finalist was a very, very good prospect. Interestingly enough, Bud had a recommendation of both. He knew both people very well."
"As I told Josh when I called him after we made the decision, nothing he did he could have done better, except maybe be born 20 years earlier," Jeff Wilpon said about Byrnes. "That 20 years that Sandy has on him was sort of the deciding factor."
Specific to Alderson, who received a four-year contract with a club option for 2015, Fred Wilpon agreed the Mets may not have had a GM with his clout since 1986 architect Frank Cashen.
"It's nice to have articulation like that," he said. "He has ideas and he's able to express that. That's good. ... I know Sandy for over 30 years. I think in 1981 we met. I've seen him in a lot of different places, a lot of different ways."
• Front-office team and manager. Alderson said he hopes to have that all resolved within 30 days. He hopes to make one or two front-office hires. Ricco will stay in the same assistant GM role.
The Wilpons handed Alderson a list of managerial candidates other GM interviewees mentioned as well, and the group pared the full list to 12-15 on Friday morning. Interviews may begin next week. Some first-round interviews may just be phone conversations.
As for the manager's qualities, Alderson alluded to his "Moneyball" quote about the skipper being a middle manager who should implement front-office philosophy.
"I know there's been some discussion about the three paragraphs in Moneyball that relate to me," Alderson said. "I do believe, just putting it in a broader context, that a manager needs to reflect the general philosophy of the organization. That's important not just for a manager. That's important for a player-development system. It's important for every element of a baseball operation to have some sense of consistency of approach, of philosophy. ...
"At the same time, the manager is a very critical part of the overall leadership structure. His job is very different from mine, it's very different from the director of scouting, etc. There are certain qualities that he has to bring. I have in my years worked with managers ranging from a Tony La Russa to a Billy Martin. So I can appreciate a fiery manager. And I think a fiery manager is actually quite desirable. I think that in some cases a manager is not only representing an organization, but the fans in maybe frustrating situations and acts as a proxy for all of us. ...
"I also think it's important for a manager to be somewhat analytical, but at the same time occasionally and sometimes often intuitive. We're looking for somebody that is right for our situation. What is our situation? You start with the fact that it's New York City. ...
"We're looking for somebody that fits intellectual requirements, but also intuitive and emotional ones. That manager may have experience, may not have experience at the major league level. We're very open-minded about it at this point. But I do want to emphasize that whoever is selected is going to be the manager and making those decisions and needs to have a certain level of independence in order to accomplish what he needs to accomplish."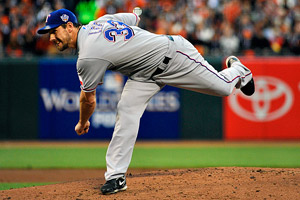 Scott Rovak/US Presswire
Sandy Alderson says it's "unlikely" the Mets will be aggressive in free agency this offseason, so forget Cliff Lee.
• Budget/roster implications. Alderson and Jeff Wilpon both acknowleged there is very little wiggle room going into 2011 -- "Will we be in the market this year aggressively? Unlikely," Alderson said -- so free agency will not be a major part of this offseason. Still, no one articulated that 2011 is a rebuilding year.
"We have to have some more conversation with him, but I assume we're close to the maximum," Jeff Wilpon said about the budget. "And I don't think he would recommend, and hasn't recommended, going above that right now."
Still, the new GM said, he couldn't forecast the amount of roster turnover. One of his primary tasks will be determining other teams' level of interest in Mets players.
"I think we're going to be busy, but that's first and maybe ultimately only to assess the market," Alderson said. "We don't really know what's out there. We need to be actively engaged in finding out what's available to us, who has interest in some of our players, and just assess things as we develop more information. But right now it would be hard to say how active we're going to be in actual transactions. But we're going to be out there fishing."
Alderson wants to gain that payroll flexibility for future offseasons, and questioned the wisdom of longer-term deals to already veteran players. And, he mentioned, that philosophy doesn't pertain just to years of contracts. No-trade clauses also have to be given judiciously, for example, because "elements of multi-year contracts can make them better or worse."
Said Alderson: "I would differeniate between, let's call it, a first-generation multi-year contract and a second-generation multi-year contract. I'd much rather sign a player who's got maybe two years' or three years' experience to a four- or five-year contract than a player who's got six or seven years' and sign him to a five- or six- or seven-year contract. That's just looking at the reality of the situation. Now, in some cases you'll do it. But the track record on multi-year contracts isn't all that great. But, look, we're going to be in that market. We're going to sign some. But that's going to put a premium on getting it right."
• Military service: "I entered the Marine Corps in 1969," Alderson said. "I went to basic school, which all officers attend. That was until the end of '69. I went to language school in Monterey, Calif., for Vietnamese. I studied Vietnamese for eight months. I went to Vietnam with the First Marine Division. I was there for eight months when they pulled us all out. I was only there eight months. I came back to Marine Barracks in Washington, where I was the C.O. of what was called a special ceremonial platoon. So I had a drill team and we went all over the country. Then I got out in '73 and went to law school."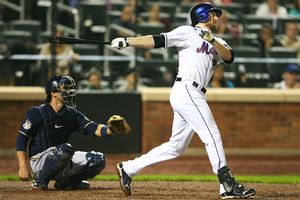 Andrew Burton/Getty Images
Homegrown players such as Ike Davis are essential to a franchise of any size, according to Alderson, because fans love players from the system, and because of the lower cost.
• Player development. Alderson strongly believes in building from within -- partially because of the economics, partially because those are the players to which fans becomes attached.
"The Ike Davises and so forth of the world, fans begin to establish a bond with those players," Alderson said. "Those players have upside. We're not exactly sure what that upside is. I've always had a preference for holding on to our own talent and seeing how far it can go. If it succeeds and realizes its full potential, we benefit. If it doesn't, I think we've still made the right decision in terms of our fan base.
"As far as players in that middle group [David Wright and Jose Reyes], I don't think we're going to go out actively trying to move anybody. But, at the same time, let's see what's out there. So, to that extent, I don't think anybody is untouchable. On the other hand, clearly there are a few players that represent a core for this franchise. You've got to be careful about trading those players, I think.
"Just as an aside, one of the reasons that fans like baseball is because it provides a certain consistency and continuity in their lives that maybe doesn't exist otherwise. It's important to recognize that. There's a bond that exists over time. But, at the same time, I think fans enjoy change. I mean, in our lives today there's a lot of change. I don't think we want overwhelming change, but I think fans like to know what's new. That's what we have to balance -- that desire for continuity with that desire for the next new thing. ...
"Even the great franchises in big markets, generally speaking, are also very good at player development. It's not just about being active in the free-agent market. It's about being active and smart in every market, whether that's acquiring a free agent, retaining one of your own players, looking at the six-year free agent market, developing players. I think the same things pertain whether you're in San Diego or New York."
• Citi Field. There is no intention to change the stadium's spacious dimensions, although Alderson reaffirmed his commitment to espousing high on-base percentage and noted the importance of the home run.
"My own feeling as a fan is that offense sells," Alderson said. "But does that mean there will be changes to this ballpark? Certainly not in the foreseeable future as far as I'm concerned. I've only walked the park once, but I do come from a ballpark -- San Diego -- where the same challenges existed. We took a look at the dimensions there. We made some modest changes, but not significant ones. And the other thing I would point out is that the fans in San Diego fell in love with that ballpark and its dimensions, and the quality and type of play in that ballpark versus other places. ... This is such a beautiful ballpark and architecturally so stunning that even that would be a consideration starting to move things around."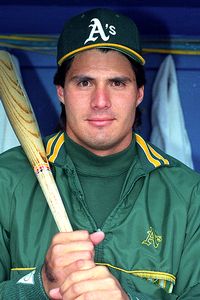 Cliff Welch/Icon SMI
Sandy Alderson said he suspected Jose Canseco (above) of using steroids, but not fellow A's slugger Mark McGwire.
• Oakland steroid use.
"I've discussed this subject in front of Congress, done it on '60 Minutes.' I've talked to George Mitchell about it," Alderson said. "It was hard to avoid it in light of the Jose Canseco book. In a nutshell, I suspected Jose Canseco of using steroids. I never suspected Mark McGwire. It was at a time as an organization we actually had begun to emphasize weight training as part of our regimen, which is now I think a very widespread commitment on the part of baseball. But, nonetheless, it was new at that time and may have inadvertently gotten us involved with that steroid aspect of weight training and bodybuilding.
"We actually had a very active minor league drug policy at the time that included a prohibition on amphetamines. But I think also you're talking about a time, late '80s, when this issue was emerging. It was emergent. Certainly in a general sense, in a personal sense, there was a lack of awareness, a lack of knowledge and ultimately a lack of tools to deal with the problem. We actually considered drug testing certain players. We acquired the specimen kits. We identified a lab. But, ultimately, we decided it would have been illegal in the state of California and also would have been a violation of the collective bargaining agreement.
"If you go back and sort of put all of that in perspective, do I wish I had done more? I think that's almost always true in retrospect with almost anything that we experience."
• Releasing players with guaranteed contracts. (Obviously, the reference was to Oliver Perez and Luis Castillo.) Ownership expressed a willingness to eat money.
"We sort of know who you're talking about," Jeff Wilpon said.
Said Fred Wilpon: "And, by the way, there may other 'hits' that he comes up with -- not only the obvious ones."
Jeff Wilpon reiterated that Omar Minaya never requested releasing Perez or Castillo.
"We said, 'Do you want to think about it?'" Jeff Wilpon said. "But it never came up to the point of, OK, we should release this guy today."
• Omar Minaya. The ex-GM, who is under contract for two more seasons, remains in limbo as far as returning. There is no definitive decision either way, and none is expected soon.
"He's going to wait it out until Sandy gets a real handle on what's here, what he might need and what the role might be," Jeff Wilpon said. "There's no real additional status."
• Hisanori Takahashi. The deadline to re-sign him has been extended until Nov. 5. It previously was this Sunday. If the Mets do not reach an agreement by then, Takahashi essentially is a goner, since the Mets could not re-sign him and use him in the majors until May 15.
"We're looking at it," Alderson said. "Takahashi did a good job ... at the end of the season, did a nice job out of the pen. Talk about flexibility, and here's a guy that can -- maybe not as effectively -- but can start, can relieve. There's a lot of value in that. We're going to look at it hard. On the other hand, we have to make a judgment about what we think he's worth. The problem is that if we don't do something relatively soon then we're out of the mix permanently. But he knows that, too. So we'll see. I think Arn Tellem is representing him now. I've known Arn a long time, and we'll talk to him and see where we are."
• Slotting system/draft. Major League Baseball recommends signing bonuses based on a prospect's draft position. The Mets try to be good MLB citizens and adhere to that system, but that appears as though it will change under Alderson and they will spend more than the recommended amount to exploit the system, as other big-market clubs do. Sometimes, attractive players fall because of fears about their contract demands, and the Mets may now be in position to take advantage of that.
"Where he makes a decision that we should go after a player that may be different than the slot says, we're going to follow that," Fred Wilpon said.
Said Jeff Wilpon: "I think we've gone over quite a bit. Maybe we didn't go for that reach player, and that certainly might change."
• Saul Katz. Fred Wilpon explained the role of his brother-in-law as team president as: "Saul has been my partner for 50 years or more. He happens to be my best friend. We are collaborative on everything. He's not active here at the Mets in a sense like Jeff and I are. Jeff is active here every day. I'm on the phone with him, and I'm more supervisory as opposed to the COO. ... Saul takes the leadership position on one or two of our other businesses. I collaborate with him on that. He's a brilliant guy that has opinions about things and has a great deal of experience in terms of financial aspects -- the refinancings and things of that nature. So that's where he concentrates."
• Jeff Wilpon's role. "My role hasn't changed," Jeff Wilpon said. "I mean, your perception of my role is probably not what my role really is. Your perception of the role, and the fan-base perception, is not correct. So my role has not changed. Does it become easier with a Sandy here? Absolutely, because he can do more things, and is more competent at certain things, that Omar might have needed more help with."