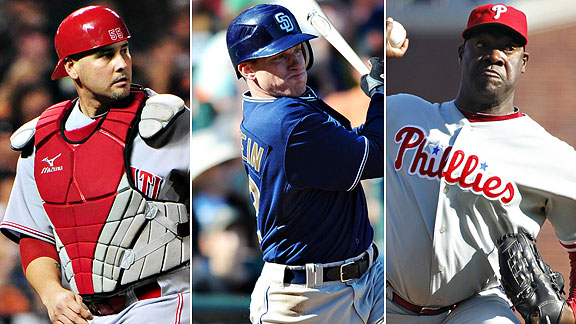 US Presswire
With a limited ability to spend, the Mets may be best served trying to find value from the likes of lower-tier free agents like Ramon Hernandez, David Eckstein and Jose Contreras.
So the Mets aren't going to be pursuing Cliff Lee, Carl Crawford, Jayson Werth, or likely anyone perceived as a top-25 player in this year's top-heavy free agent market.
That's rough because there are some needs to fill out this offseason and with limited resources, new management will need to be fairly creative.
At this point, the teams primary daily positional uncertainties lie at catcher and second base. Moundwise, they're going to be down a starting pitcher for a couple months with Johan Santana out, they may lose their primary lefty specialist (Pedro Feliciano), and the status of the closer (Francisco Rodriguez) is on the dicey side.
So who could the Mets look to pursue that would be of legitimate assistance, without hindering the development of their younger players?
There's nothing that's going to wow you here, but my goal was to find a few options of winning backgrounds that could work well in tandem on a short-term basis with some of the Mets younger players. Here are three thoughts for your consideration:
CATCHER
If you're not ready to hand the everyday catcher's job to Josh Thole, Ramon Hernandez makes some sense as one who could play often, against both righties and lefties, while continuing to teach and mentor Thole, who could still see a good amount of playing time.
Hernandez, who nearly became a Met after the 2005 season (the team traded for Paul Lo Duca instead) had a career-best .364 on-base percentage and seven home runs in 97 games at age 34, admittedly aided by playing 52 games at offense-friendly Great American Ball Park.
Hernandez threw out 28.6 percent of would-be basestealers last season, which would be a drop-off from Henry Blanco, but still rates respectable relative to other everyday catchers. The offensive upgrade from Blanco to Hernandez would likely be worth it, even factoring in the likely drop that will come from playing regularly in Citi Field. One plus: Hernandez played two seasons in PETCO Park and hit 15 home runs in 367 at-bats there in 2004-05.
One potential roadblock to such a signing: Hernandez's status as a Type A free agent, meaning his pickup would cost the Mets a draft pick if the Reds offer him salary arbitration.
MIDDLE INFIELD
Given Jose Reyes' physical fragility, Ruben Tejada's offensive inefficiencies, and the likelihood that Luis Castillo will not be with the team, the Mets might consider adding a middle infielder who can play everyday at either middle infield position if the need arose.
Lowest Pct of PA Ending in K
2010 Season (minimum 400 PA)
Orlando Hudson would be a nice addition, but we're guessing he's going to fall outside the Mets price range, again. The cheaper alternative could be someone of the David Eckstein ilk.
Eckstein, like Hernandez, was also almost a Met previously. At age 36, and with a .321 on-base percentage last season, he's not going to be a highly-desired target by other teams. He fits the role of stopgap/tutor at second base for a year (and he could play shortstop if absolutely necessary), after which time the Mets should have a better handle on their future at that position and more money to spend to fill it.
Given his extraordinarily high contact rate, Eckstein would make an ideal No. 2 hitter behind a healthy Reyes. The threat of a hit-and-run would exist just about every time Eckstein came up with Reyes on base. According to Stats LLC, Eckstein put a ball in play 11 times on a hit-and-run last season, netting five base hits.
PITCHING
The starting pitching market after Cliff Lee is awful and the second-tier pitchers -- Carl Pavano, Jon Garland, and Jake Westbrook among them -- seem likely to be overvalued because the quality bar is low.
Jose Contreras in 2010
Key Numbers
The lefty reliever market is plentiful, but those pitchers tend to be statistically volatile. If you can tell me which of Randy Choate, Will Ohman, and Scott Downs are likely to have success in 2011, good for you
That's why the Mets might want to prioritize another area of the bullpen, one that essentially amounts to closer insurance.
Dating back to the Billy Wagner era, the Mets have inevitably had to deal with the annual loss of their closer, but they haven't usually had a backup plan at the ready (hello, Luis Ayala/Hisanori Takahashi).
That's why signing a pitcher the likes of Jose Contreras makes some sense. Contreras, who had a 3.34 ERA and averaged a strikeout per inning in relief with the Phillies last season, would make an ideal eighth-inning guy (allowing some versatility with Bobby Parnell's role) and emergency closer if willing to embrace the role.
Couple the fastball that oft-hit 94 miles-per-hour with a low walk rate and respectable home run rate and you have someone who misses bats frequently enough that he could fill Rodriguez's role if necessary. Contreras did so on a couple of occasions filling in for Brad Lidge in 2010.
Yes, we know it didn't go too well for Contreras the last time he pitched in New York, but perhaps that would provide him some extra incentive to be of value to the Mets in 2011. It's worth thinking about, at least.