For those who think that the Mets espousing Moneyball philosophies will mean a strict adherence to baseball analytics and a formulaic, stats-over-scouts approach to player acquisition, some clarification may be in order.
The perceptions that exist from Michael Lewis' best-selling book, in which new Mets vice president of player development and amateur scouting Paul DePodesta was a supporting character to Athletics GM Billy Beane, are not necessarily related to the direction the Mets front office will take in its decision-making processes.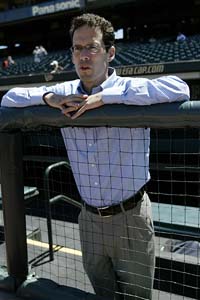 Michael Zagaris/MLB Photos/Getty Images
Paul DePodesta
"The book itself was a bit of a caricature, not just to me, but to many of the people involved," DePodesta said.
In fact, the movie based on the book, starring Brad Pitt as Beane, changed the name of its DePodesta character at his request.
"Moneyball has taken on a lot of connotations that weren't intended," DePodesta continued. "Moneyball doesn't have anything to do with on-base percentage or statistics. It's a constant investigation of stagnant systems, to see if you can find value where it isn't readily apparent. It can be anything. At the time, it happened to be using statistics to make us better decisions. That's not always the case. There are new frontiers we need to conquer."
In a conference call Tuesday afternoon, DePodesta was guarded with regards to what those frontiers are, just as he was when asked about his 20-month stint as general manager of the Dodgers in 2004 and 2005. ("I'm not at liberty to talk about my dealings with the Dodgers," he said, hinting at a nondisclosure agreement with his former club.)
"Look at how we develop players and people to get the most out of someone's talent," he said. "That untapped. It's an area where there a lot of opportunity."
There was excitement in DePodesta's voice with regards to his primary role, overseeing player development and amateur scouting. The Mets will have directors for each, both of which will report to DePodesta. Former Blue Jays GM J.P. Ricciardi will oversee the professional scouting side of baseball operations.
"For me the draft is the best day of the calendar year, though it's certainly not the most glamorous," DePodesta said. "It's something I love getting involved in, getting out and seeing players. With my background from the last few years, I'm probably not as married to the college player as some may think. I have certain things I look for, pitching- and hitting-wise, but I'm open to any type or shape of player and any type of background."
What's the message that DePodesta wants to send to the statistically inclined portion of the fan base, one that has reacted overwhelmingly favorably to the news of each of these hirings?
"We're still going to be wrong, probably often, but hopefully we're disciplined enough in our processes to be more right than we are wrong," he said. "The guiding principle is uncertainty. We want to try to understand and corral that uncertainty as best we can to help us narrow our choices to guide our intuition to the best choice possible. Hopefully we're right more often than we're wrong and hopefully we're right when it counts."
The opportunity to be right in New York ("Moneyball with Money" as some have referred to the potential), as opposed to San Diego, was half the lure for DePodesta to leave his job as executive vice president of the Padres and build a set of front-office philosophies from scratch here.
"If one doesn't aspire to be in a place of this magnitude, then he's probably in the wrong industry," DePodesta said.