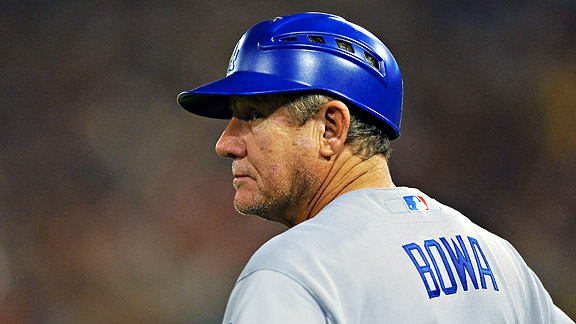 Steve Mitchell/US Presswire
Larry Bowa.
Larry Bowa is a "strong possibility" to become Terry Collins' bench coach with the Mets, Newsday reported.
The connection makes sense. Bowa served as Collins' third base coach with the Angels.
Still, reached on Monday afternoon, Bowa said he has not been contacted by the Mets.
"I haven't heard about anything from anybody, to be honest with you," Bowa said with regard to the Mets. "I had a good time with him [in Anaheim]. He did a good job there. But I haven't heard anything. I've just sort of been chilling. I had a hip replacement and I'm feeling pretty good. We'll see what happens."
In an interesting twist, there was talk of Bowa becoming the Mets' bench coach for the 2005 season had Art Howe remained manager.
Late in the '04 season, with Bowa's tenure as Phillies skipper clearly on the verge of ending, and with the Mets unsure if ownership would allow the front office to eat the final two years of Howe's contract, the Mets quietly made contact with Bowa via Lenny Dysktra to see if he would be willing to come on board the following season as bench coach. The hiring never materialized because Omar Minaya took over as GM and Howe was pushed out in favor of Willie Randolph.
Bowa managed the Padres in 1987 and 1988 and the Phillies from 2001 to 2004, compiling a 418-435 record. He actually finished a 16-year major league playing career with the Mets in 1985.
He spent the past five seasons as a third base coach for Joe Torre, with the Yankees and Dodgers.