Terry Collins met with print reporters for more than 20 minutes after the formal press conference was over. Here are selected questions and answers from that session:
When do you suppose being viewed as fiery -- and having to dispel being viewed as an "evil devil" to use your words -- became an issue that you had to talk about?
"Well, it's followed me wherever I've ever gone -- basically at the major league level, when I started coaching, because at the minor league level I had the same passion for the game," Collins said. "At the minor league level, no matter where I was, it worked. Obviously you can have your conversation with [Triple-A Buffalo owner] Bob Rich. I cared about the way the game was played. I didn't ask -- I demanded -- because of the respect for the sport itself. This game has brought to myself, and every player that has ever played it, great rewards. I wouldn't have done it for 40 years if I didn't love it. So I think it deserves a payback. And part of that payback is the way the game as played. So my intenseness comes with I think there's only one way to go about playing this game. And some guys, when they don't like it, or if you say something about it, especially at the major league level, you become too intense.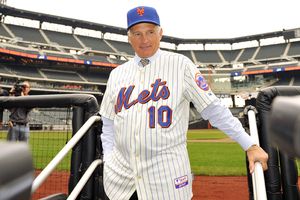 AP Photo/Stephen Chernin
Terry Collins at Citi Field after press conference.
"But I will tell you something. I have been around Tom Lasorda, Lou Piniella, Jim Leyland. And excuse me if they're not intense. Because you better be focused. They may handle things differently than me. But I believe to manage this game, you've got to have some intensity and some desire."
People bring up the '99 Angels, and the in-fighting and your resignation in early September. Do you consider yourself a different person now? A different manager now? Was it a learning experience?
"It was a huge learning experience. You know, my patience over the years now has changed. I'm a lot more patient. And I know that's not a word you like to use in New York too much. That's why I don't use the word rebuilding. I don't think you can rebuild in New York. I think you have to move forward. It was the same with the Dodgers. They didn't talk about rebuilding. They talked about getting better. But, my time with the Angels, I went there. They said you've got to make us better. We got better. Now, expectations were we were to win. In 1999, we signed one of the best players in the game [Mo Vaughn], and we were supposed to win. And nobody cares on the other side of the field when there are perhaps reasons, which this [Mets] team has seen in the past two years, and that's injuries. You're supposed to win. [With] the injured players, we just didn't have enough fire power when they were out of the lineup to compete. And negativism, or losing, breeds negativism in the clubhouse. I did a bad job of managing the clubhouse. No question about it. And I'm accountable for that. I was the manager of that team. I should have done a better job of staying on top of it. I didn't. I learned from it. It will never happen -- I will guarantee you -- it will not happen here."
How valuable will it be if you need to call up a player in-season to have a working knowledge of the system's players having been minor league field coordinator this past year?
"I think it's going to be huge for me. One of the other things I hope you understand -- I've never forgot where I came from. I spent 21 years in the minor leagues when I got my first chance to go to the big leagues. I have never forgot. And [farm director] Adam Wogan, who has become a very good friend of mine, we will be in constant contact. Even though the reports say one thing, I want to know the real truth what's going on. I contact my minor league managers. I always have. The Triple-A manager, obviously, will receive a phone call a week so I'm on top of things. My knowledge of who those guys are and what they can do, I think, will be firsthand when it comes to the middle of the season. If I need a one-inning guy that can get me into the seventh inning, is it going to be Tobi Stoner? Is it going to be Jeurys Familia? Somebody? I'll know who those guys might be."
There's a perception of a lack of respect for the game in the major league clubhouse. Is that something you noticed?
"I hope you understand, I was not around this team much. I met the guys individually in January, and February during spring training. I was not in that clubhouse. Never was. Don't know. ... I talked to David [Wright] last night. He's excited -- probably not as excited as I am -- but he's very excited. And I'm going to use those guys. They have a voice. The players have a voice here. And I hope they understand that. You've got to have some leadership in that clubhouse, and it doesn't always have to be the biggest star. But we've got to have some leadership in here. It's important that we get the right guys that are the leaders. And they better understand there's an open-door policy. And it doesn't always have to be them walking in my office. It might be walking in their space, and being accessible to them."
With Johan Santana not being ready for the start of the season, how concerned are you about the pitching staff? Do you have enough depth to compete?
"Obviously you can't replace a guy like that. When we're talking about someone -- whoever is going to be that No. 1 guy in our rotation until he's back -- I hope they just understand they just have to do the best they can. We don't expect them to step up and be Johan Santana. But every team, those five guys in that rotation, they've just got to do what they have to do and hopefully execute their pitching. If it's Dillon Gee, be Dillon Gee. Don't try to be Johan Santana. Make your pitches. Change your speeds. Locate it. And if we catch it, which we're going to stress -- we're going to stress catching the baseball, because I do believe pitching and defense wins -- if we can do that, we're going to win some games. Obviously, you know, it's going to be a battle when you face Roy Halladay. When I was in Anaheim, it was amazing how many times Chuck Finley had to go against somebody else's ace. I'll tell you one thing: He won 12 or 13 games. So he had to beat them along the line. So it can be done."
I think you said a year ago managing was not on your mind. Is that something that changed more recently?
"I was very surprised. When I came back from Japan, I was done. I thought I was going to retire. I had a lot of fun. I had a run. The Japanese scenario wasn't what I wanted and I thought, 'You know, it's time to take some time off.' Omar Minaya, who is a good baseball man and a good friend of mine, called me and said, 'I need some help. Would you come over and be the field coordinator here?' I said, 'I don't think so. I think I'm done.' He called me a month later and he said, 'Would you reconsider?' I said, 'You know what? If somebody needs my help, if I can help them, I'll come back.' I spent some time this summer. I wanted to do the best I could to help Jerry [Manuel] and his staff with the players to get better and win. And when this opportunity came and Sandy [Alderson] called me and said 'I'd like to talk to you about the player development,' I said great. And he said, 'I also want to talk to you about the possibility of managing this team. Do you want to do this again?' And I said, 'Sandy, that's why I put on the uniform for 40 years. This is what I think I do. This is what I think I do well. Yeah, I would love the opportunity to talk about it.'
"I had a question asked of me last week: If I didn't get the job, would I come back? Absolutely I would come back. I truly believe I am a professional. I truly believe I'll do the best job I could possibly do. But my job, if I didn't get this job, was to provide whoever did sit in this particular seat the best players available, and get the guys better, so that when they need help, that player is [ready]. And whoever takes my job, I'm going to expect the same thing."
Do you consider yourself a disciplinarian? And, if so, do you have to walk a fine line because of today's major league players?
"When you say disciplinarian, I don't yell and scream at players. I never did. That's a misconception. Sometimes during a game if you walk over to a guy and say, 'Hey, look, I want some effort,' in a certain situation, it doesn't have to be broadcast. It's just your point has to be made. And, yes, I've taken major league players out of the lineup for not running. I just think sometimes it sends a message. But I know one thing: Once in a while, if you understand the circumstances, you've got to turn your head on some things.
"Somebody asked me one time, 'Geez, I don't like, your left fielder is walking out to left field between innings.' I said, 'Yeah.' He said, ''What are you going to do about it?' I said, 'Nothing., How does he go after fly balls? That's the only thing I really care about.' But I also believe players -- the real good players -- they're self-disciplined. They don't need discipline. I sat next to Barry Bonds when I was in Pittsburgh. Nobody ever, ever saw this guy work. They only talked about how he played. I saw him work. And this guy wanted to be the best player going. Was he hard on some things? Was he tough sometimes to be around? Yeah. But he was driven to be the best. And that, to me, is self-discipline. And that's what I'm going to try to instill in our guys -- 'look, you have a chance to be great.'
"I told Sandy and Jeff [Wilpon] the other day: One of the things that I was told a long time ago by Wade Boggs, who I really respect, he said, 'Few men dare to be great.' And I want those guys who want to be great. I want those guys who want to take the chance at being great. Because once you become great, you've got to maintain it. So when you're not, you've got to deal with the consequences, and that is, sometimes, you're going to be criticized. But you've got to understand, you have the ability to be great. And so we're going to try to reinstill that."
Some trends have developed since you last managed in the majors in 1999. One, GMs are more involved now with the manager. Two, and there's more sophisticated statistical analysis. How do you feel the adjustment will be?
"I've known Sandy for a number of years. And, again, I learned a lot of managing from Jim Leyland. I mean, I spent hours sitting with him in his office pregame, postgame, planes. One of the things he talked about when you're dealing with general managers is it's their job to give you the players, it's your job to manage them. And Sandy and I have already talked about that. I'm not going to tell him how to trade guys. We'll talk about on a daily basis what's going on with the team.
"The statistical stuff, obviously there's value in it. It's been proven. There's value in it today. When I was managing in Houston, we had an advance scout. When I went to Anaheim, all of a sudden the computer age came in. There was Inside Edge. I know now there's different services people use. Joe Maddon is a great friend of mine, who was my bench coach, who started to get into that. There's a place for it. And it wins games for you."
Players -- say Jose Reyes -- dance and other teams may have a problem with it. How do you feel about that sort of thing? Is it possible that respecting the game means one thing 20 years ago and means another thing now?
"The way the game is played today is a little different. You've got to turn your head on some things because it's done everywhere. If you remember 10 years ago, if you stood at home plate and watched a home run, you got drilled. And now everybody watches a home run. Very few guys just turn around and start running the bases, especially if they know it's a homer. And today the retaliation is at a minimum -- No. 1 because MLB wants it at a minimum. So some of that stuff you just turn your head and realize, 'Hey, look, that's just the way some of the game is played today.' As long as it's played hard and with energy, that other stuff I can --- Do I like it? Not necessarily. But I understand it is part of the game and I can deal with that."
So you wouldn't necessarily tell a modern player to keep that behavior at a minimum?
"Only if they start throwing at him. Then I've got to address it. If Jose Reyes jumps up and down and somebody drills him, I'm going to be very unhappy."
With whom?
"Well, No. 1 probably the other side, just as much as Jose. Probably less with Jose. But I'll certainly say, 'You know what? You might want to calm that down because we need you in the lineup."
What makes you so confident there won't be a reprise of the Anaheim issue?
"The one thing I've learned is the communication just can't stop. I can't take for granted that they're ready to go, which I have in the past. They're major league players. I took for granted in the past, hey, they're going to be ready to play on a daily basis. That's not going to happen again. I'm going to make sure they're ready. I'm going to go around each and every day. I prided myself my years managing to talk to every single player every single day -- even if it's just to say, 'Hey, how are you doing?' I'm going to make sure I'm better at that. I'm going to try to be more accessible."
Do you have a sense of the existing clubhouse atmosphere?
"I really don't. I wasn't here. I don't go on the hearsay stuff. All I can tell you is what I'll bring."