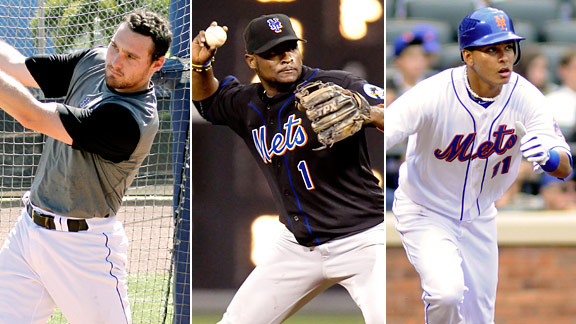 Icon SMI
Daniel Murphy (left) and Luis Castillo (center) could battle for the starting second base job, leaving Ruben Tejada (right) to mature at Triple-A Buffalo.
Terry Collins openly suggested Tuesday that Daniel Murphy and Luis Castillo could be in a spring-training competition at second base. If that comes to fruition, Murphy may really emerge as the Mets' second baseman in 2011.
While it's a stretch to view Murphy in the same terms as Dan Uggla, Collins -- who recently watched Murphy man the position in the Dominican Republic -- sees him at least fitting that profile. And as the analytical folks know, runs produced and runs allowed are equally weighted in those circles. If pitching is the dominant part of runs allowed, we can surmise where second base defense ranks on the priority list.
Murphy is getting consistent exposure to second base this winter with Aguilas. He is hitting a gaudy .320 with four homers and 22 RBIs in 103 at-bats -- although, clearly, improving his fielding competency at second base is the priority.
A scout who watched Murphy recently in the Dominican Republic came away impressed with the strides he has made at the position.
"He was very serviceable," the scout said. "He made all the plays but one. He had a routine groundball go through his legs. But it was no big deal. He turned a couple of double plays. He moved to his left and his right. He moved better to the first base side, which would be to his left. And his throwing was good. It was accurate. His arm action is a little long from second. If he could tighten that up, it might serve him a little better. It's almost like an outfield thrower's arm. A catcher brings it up short and tight to his ear; you want to have a little shorter arm action. But he's working hard."
The scout, for whatever it's worth, did not buy fielding being unimportant, especially in an era when homers are down, though.
"I would never discount defense in this day and age with players that are smaller," he said.
Castillo will be entering the final season of a four-year, $25 million deal. He already has been visited by Sandy Alderson, and Collins plans a visit soon, too.
The presumption has been that Oliver Perez and Castillo had no chance of being on the Opening Day roster, although in Castillo's case perhaps that has been overestimated. Still, it's entirely plausible the Mets can find a matching bad contract for Castillo this offseason -- he's owed $6 million -- and send him elsewhere (see this list I produced from earlier in the offseason).
Meanwhile, the Murphy-Castillo talk completely leaves out the now 21-year-old Ruben Tejada, who hit .213 in 216 at-bats last season. It appears the Mets will be more patient with prospects and let them develop, so we could see Jenrry Mejia and Tejada opening the season at Triple-A Buffalo. Collins clearly was not on board with the decision to use Mejia as a reliever at the major league level to open last season at the expense of development, although he did not exactly have a say at the time.