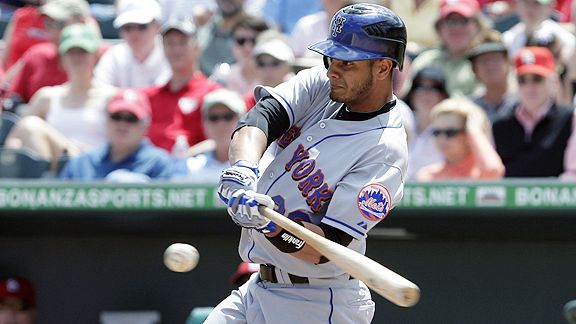 AP Photo/Richard Drew
Fernando Martinez, pictured during spring training, may be done in the Dominican Winter League after one game because of a knee injury.
Outfield prospect Fernando Martinez, who has struggled with injuries throughout his professional career, may be done with Escogido in the Dominican Winter League after one game with the club.
Martinez feels notable discomfort in his knee, he told ESPN's Enrique Rojas.
"I feel a lot of pain in the knee, but I don't know if I'm done for winter ball," Martinez said.
The 22-year-old Martinez made his season debut with Escogido on Wednesday, going 1-for-3 with two RBIs. He had not been in a game of that caliber since getting shut down with Buffalo in August with knee discomfort.
While Martinez told Rojas he doesn't know if he is done for the winter-ball season, it is reasonable to expect the Mets organization will take the lead and make that decision for him.
Martinez's career has been slowed by assorted injuries since he received a $1.3 million signing bonus in 2005. He has appeared in 385 regular-season games between the majors and minors with the organization over the past five years -- an average of only 77 games a season.
In '07, he required surgery to address a broken hamate bone at the base of his right hand, but the injuries otherwise have been leg-related, primarily to his knee and hamstrings.
In 71 games this past season with Triple-A Buffalo, Martinez hit .253 with 12 homers and 33 RBIs in 257 at-bats.