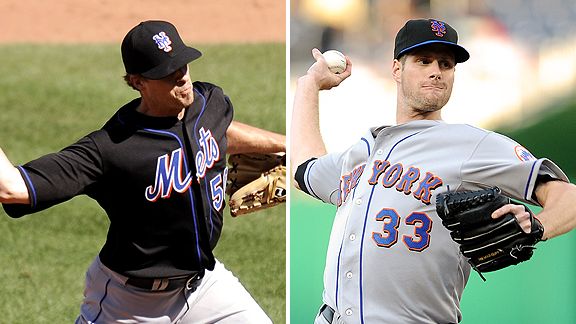 Getty Images
Sean Green (left) and John Maine (right) are out with the Mets, as well as Chris Carter.
Sean Green is out with the Mets at the non-tender deadline, while John Maine also was cut loose by the organization at the deadline to tender contracts to arbitration-eligible players. In an unexpected move, the Mets also dumped Chris Carter, who was not yet even arbitration-eligible.
The reason for Carter may center on the fact that had he been assigned to Triple-A Buffalo next season, he still would have been required to make at least 60 percent of this past season's salary -- which would mean a $200,000-plus minor league salary. The Mets are now allowed to re-sign him if both sides choose, with a new split contract that calls for a far lower salary should he be assigned to the minors. Of course, Carter also had defensive limitations that did not make him ideal for a National League bench.
Read the full news story here.