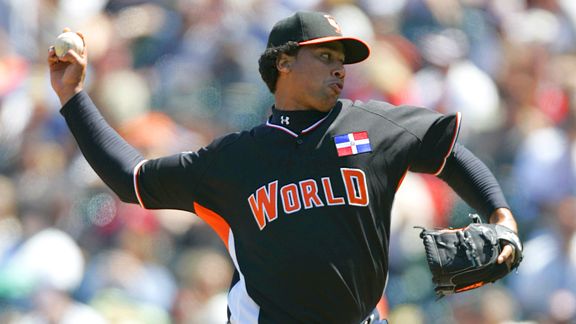 Michael Zagaris/Getty Images
Pedro Beato represented the Baltimore Orioles in the Futures Game in 2007 (above), but will be in spring training with the Mets as a Rule 5 pick.
On the day the Mets last completed a World Series title, Pedro Beato was born in the Dominican capital, Santo Domingo. Now, he is a member of the organization -- at least entering spring training.
Beato was selected by the Mets in the Rule 5 draft at the winter meetings Thursday, along with second baseman Brad Emaus. Those players will officially become Mets property if they spend the entire 2011 season on the Mets' major league roster. Otherwise, they must be placed on waivers and then offered back to their former clubs.
"It's a happy moment," said Beato, a product of Xaverian High School in Brooklyn. "The first team that picked me out of high school, it's the Mets. The year I was born, the day I was born, is the same day they won the World Series. I've heard people say it's probably meant to be."
Beato did not sign with the Mets after they selected him in the 17th round of the draft in 2005. The Baltimore Orioles got him as the 32nd overall pick in the following year's draft, and was rated the 99th best prospect by Baseball America in 2007.
Now Beato is coming back home after the Orioles left him unprotected. He spent last season with the Oriole's Double-A affiliate in Bowie, going 4-0 with 16 saves and a 2.11 ERA in 43 appearances, after being converted to relief. He struck out 50 while walking 19. In five minor league seasons, Beato has made 83 starts in 131 appearances.
As a Rule 5 Draft pick, Beato said he wants to do everything he can to show the team that he belongs in the bullpen instead of being offered back to Baltimore.
"I'm not just going to sit back and relax and let it come to me," he said. "I have to go aggressive. I have to go fight for a spot. It's a dream for every guy in the minor leagues to make it to the big leagues. I'm getting that chance to get there, have the chance to be on a big league club -- and not only be in a big league club, but be at home."
Beato didn't root for the Yankees or Mets, and didn't have a favorite team. He just followed some players and tried to pattern himself after them, Hall of Famers that is.
"Pedro Martinez. Roger Clemens. Andy Pettitte -- I liked his work ethic," Beato said. "Roger Clemens, he's an animal. He's worked for what he's got. He worked to make himself the best that he could be."
Beato has appeared in only two games with the Licey Tigers in winter ball. He's made two relief outings, but has been working with Guy Conti, the winter-league team's pitching coach and a longtime Mets minor league instructor, on mechanics and getting the pitching concept straightened out.
"I've only seen him throw in the bullpen, But I'm excited about what I saw," Conti said. "I'm not excited about the extraordinary number of pitches. He's throwing every pitch that can be thrown. But he's got a power arm. I think [Mets pitching coach] Dan Warthen will mold and fix and hopefully he can pitch for us."