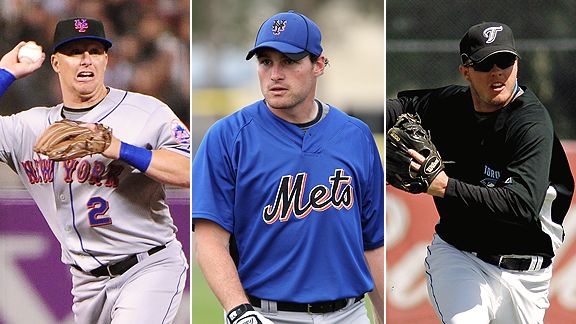 US Presswire, US Presswire, Getty Images
Justin Turner (left), Daniel Murphy (center) and Brad Emaus (right) will compete with Luis Castillo in spring training to become the Mets' second base, according to Terry Collins.

Second Base
New York Mets
Terry Collins, during a visit to Cohen Children's Medical Center in New Hyde Park, L.I., on Wednesday, spoke about the candidates to emerge as second baseman for the Mets to open the season -- Luis Castillo, Brad Emaus, Daniel Murphy and Justin Turner.
"Going into camp there's four legitimate guys," said Collins, who omitted Ruben Tejada, who is expected to be assigned to Triple-A Buffalo to allow him to develop.
The Mets selected Emaus last Thursday during the Rule 5 draft at the winter meetings from the Toronto Blue Jays for $50,000. He must remain on the major league roster for the entire season in order to become Mets property. Otherwise, Emaus must be placed on waivers. If he clears, he must be offered back to the Jays for $25,000.
The 24-year-old infielder, who played college ball at Tulane, was an 11th-round pick in 2007. He hit .290 with 15 homers and 75 RBIs, and had a .397 on-base percentage and 13 steals in 15 attempts, during the 2010 regular season while splitting time between Double-A New Hampshire and Triple-A Las Vegas. He is currently playing for Toros del Este in the Dominican Republic, where he has a .263 average, four homers and 17 RBIs in 114 at-bats.
Emaus played 87 games at third base and 32 games at second base last season, but in 2009 in Double-A he played exclusively second base (132 games).
"Obviously, with [former Blue Jays GM] J.P. [Ricciardi] involved, we had real, real good information on him -- what kind of player he was," Collins said. "We talked to some of the people down in the Dominican. I talked to Obie [new bench coach/Dominican winter league manager Ken Oberkfell] about him, because Obie has seen quite a bit of him. He said he's a solid player, who looks like he can play a couple of positions. His approach at home plate is something that's going to fit here. He's a big pitch-selection kind of guy, a good walk-to-strikeout ratio [81 walks, 69 strikeouts during the regular season]. We're going to give him a shot and see him in that mix at second."
Murphy suffered a left hamstring strain while playing winter ball with Aguilas in late November. He was hitting .320 with four homers and 22 RBIs in 103 at-bats in the Dominican winter league before suffering the injury. And Murphy has pledged to Sandy Alderson that he will make the Opening Day roster in some capacity, even if it's as a backup at several positions. Murphy, whose 2010 regular season was mostly lost due to a pair of knee injuries, played second base both in the fall instructional league in Fort Myers, Fla., and then in the Dominican Republic before suffering the hamstring injury.
"Work is not an issue with Murph," Collins said. "He's worked very, very hard to play second. I saw him play three games down there [in the Dominican Republic]. His range is OK. His hands are fine. It's just he's got to be familiar with turning double plays. He's got to get used to it."
Castillo is owed $6 million next season, in the final year of a four-year, $25 million deal. If he is beaten out, it's hard to imagine he will be on the Opening Day roster. The Mets likely would be forced to eat the money and release him since Castillo would not be capable of backing up at other positions and wouldn't exactly provide power on the bench. Alderson recently admitted Castillo, like Oliver Perez (owed $12 million next season), cannot be traded this winter because there's no market.
Collins also cautioned not to forget the 26-year-old Turner, who was claimed off waivers from the Orioles in May at the suggestion of Wayne Krivsky. In Triple-A with the Orioles and Mets, Turner hit a combined .316 with 12 homers and 43 RBIs in 396 at-bats, although he was snubbed for a September call-up, despite going 6-for-6 and hitting for the cycle on the final day of Buffalo's season. Turner currently is playing for Oberkfell with Escogido in the Dominican Republic, where he has a .308 average, one homer and eight RBIs in 65 at-bats.
"People are not mentioning him, but he's also down in winter ball, having a very, very good winter," Collins said. "He had a very good finish in Triple-A. So we've got to include him in that mix."