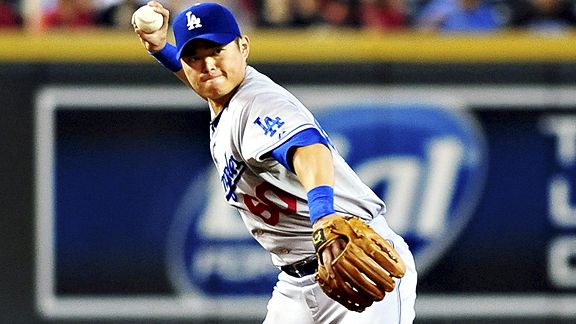 Gary A. Vasquez/US Presswire
The Mets acquired shortstop Chin-lung Hu from the Los Angeles Dodgers on Monday.

Shortstop
Los Angeles Dodgers
The Mets announced a minor trade Monday, acquiring shortstop Chin-lung Hu from the Los Angeles Dodgers for minor league left-hander Mike Antonini.
One former Dodgers employee described Hu this way: "Great hands, plus instincts, everything works really well, and more bat than you'd think. Has some pop. Could easily fill in at shortstop. Terry Collins would know from his time with Dodgers."
Other than Luis Hernandez, the Mets had little in the way of a fill-in for Jose Reyes if the shortstop needed to miss any time.
Hu has played 58 major league games at shortstop and 30 at second base, so he could serve in the backup middle infield role. He presumably would be the frontrunner for that role since he os out of options and would need to clear waivers to be sent to the minors. For the record, Hernandez also is out of options.
Hu was the MVP of the 2007 Futures Game.
ESPNLosAngeles.com's Jon Weisman writes: "Hu, who will be 27 in February, spent eight years in the Dodgers organization. Considered a defensive whiz, Hu's stock fell as he was unable to build upon a minor league campaign in 2007 when he had an on-base percentage of .364 and slugging percentage of .507 in Double-A and Triple-A combined. In his major league career, Hu has a .241 OBP and .283 slugging over 191 plate appearances. Hu has the most times at-bat of any Taiwan-born player in major league history."
Here are their previous stats directly from the Mets' release:
Hu, 26, split last season between the Dodgers and Triple-A Albuquerque of the Pacific Coast League. The 5-foot-11, 188-pounder started the season with the Triple-A Isotopes before being recalled to the majors on June 17. The right-hand-hitting Hu returned to Triple-A on June 23, before he was called back to the Dodgers on September 6. He hit .317 (66-for-208) with four home runs and 25 RBIs for Albuquerque and .130 (3-for-23) for the Dodgers.
Originally signed as a free agent on Jan. 31, 2003 by the Dodgers, Hu made his major league debut in 2007. In 96 career games spread over four big league seasons, the native of Tainan City, Taiwan, has hit .191 (33-for-173) with two home runs and 17 RBIs.
Antonini, 25, made 29 combined starts at Triple-A Buffalo of the International League and Double-A Binghamton of the Eastern League last season. Antonini began 2010 with the B-Mets and went 6-9 with a 4.32 ERA (63 earned runs/131.1 innings) in 23 games, all starts. He made his first start for the Bisons on Aug. 9 and finished the season with the Triple-A club, pitching to a 5.11 ERA (21 earned runs/37.0 innings) and a 2-3 record in six games, all starts.