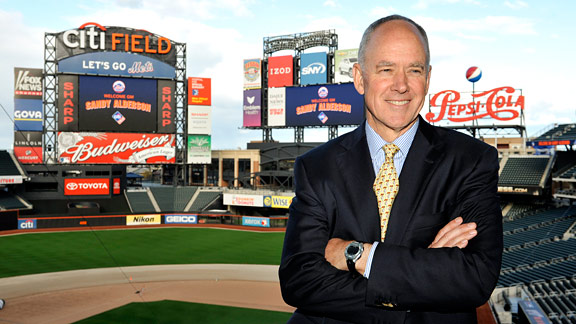 AP Photo/Kathy Kmonicek
Sandy Alderson, pictured posing with Citi Field as a backdrop after his introductory news conference, discussed Mets issues with ESPNNewYork.com on Monday morning.
During a nearly 20-minute conversation Monday, Sandy Alderson spoke with me about a variety of topics.
Among those: Would he consider a multi-year deal for Mike Pelfrey, R.A. Dickey and/or Angel Pagan this winter? Is it starting second baseman or bust for Luis Castillo? What work remains for the offseason? Is Omar Minaya staying with the organization? And what is Johan Santana's next step?
Here's the transcript:
If unsettled, you will exchange arbitration figures on Jan. 18 with R.A. Dickey, Mike Pelfrey and Angel Pagan. Do you expect any of those contracts to be done before then?
"Those are still in negotiation. And I think there's very little negotiation taking place at the moment generally speaking across baseball before the numbers are exchanged. Until numbers are exchanged, I don't think there is going to be a lot of progress."
You've wanted to maintain flexibility for spending in future offseasons. Would that preclude a multi-year deal for any of those arbitration-eligible players?
"I wouldn't rule that out necessarily. Certainly we want to maintain flexibility for next year, but we also want to have flexibility in solving some of the issues we face this year. I wouldn't entirely rule that possibility out."
But just based on your statement that there had been "little negotiation" in advance of numbers being exchanged, it's not something that is overly likely, is a fair way to characterize it?
"No, I wouldn't say so. Again, we're not looking to do multi-year deals as a way of solving arbitration differences, or differences that arise in the arbitration process. But it's always a possibility."
As far as needs for the remainder of this offseason, the Chris Capuano signing does not preclude you from adding another starting pitcher? And how likely is it that you add a starting pitcher of that caliber/contract or greater?
"First of all, signing Capuano does not preclude us from signing another starting pitcher. I'd like to sign another starting pitcher -- probably the same type of deal that Capuano has [$1.5 million base, with roughly $3 million in performance incentives]. I am hopeful of signing another starting pitcher."
So you don't believe the remainder of the deals for the offseason will be just minor league contracts? You believe you can get a pitcher of that caliber?
"Well, a pitcher that we think can compete for a spot in the rotation, to whom we're prepared to give a spot in the rotation, subject to that pitcher performing in spring training and early in the season. I think we're looking to do something that would be more than just a minor league contract with a spring training invite."
There have been conflicting reports about whether there has been an offer made to Chris Young. With Young and Jeff Francis, is that semantics, in a way, because each side has an understanding of where the other wants to go, even if it's not officially an offer? Or has there been anything formal?
"Over the last several weeks, before and after the Capuano signing, we've had conversations with agents for other pitchers. I wouldn't characterize where we are in most of those cases as beyond the discussion stage. Through this point, we've been having discussions with a variety of possibilities."
In terms of left-handed relief, do you foresee signing someone to a major league deal, or someone very capable to an invite to spring training? Or is the current roster of contenders (Oliver Perez, Mike O'Connor, Eric Niesen, Roy Merritt) the entirety of who is under consideration?
"The short answer is yes, I do anticipate signing -- or certainly trying to sign -- someone to fill that role for us."
Has anyone gone to see Oliver Perez in person pitch in Mexico, whether you or Terry Collins or Dan Warthen?
"Nobody has gone yet. That hasn't materialized, and it may not at this point. Just with the shortage of time and other priorities. But it's still possible."
When he goes to camp, I know it's partially, or maybe mostly, Terry Collins' say, but is Oliver solely vying for a bullpen role? Or would he get consideration/work as a starter?
"I think that's something that will be discussed between Terry and Oliver, and will be something that will certainly be determined before spring training gets into full swing. But that's a conversation that needs to take place between Ollie and Terry, and I'm sure will take place."
Do you foresee adding a backup outfielder? Is that something you're in the market for? Or between Jason Pridie and Fernando Martinez, and whether Nick Evans or Daniel Murphy gets some work out there in left field, that's sufficient?
"We're still looking. To summarize, we're looking for starting pitching, we're looking for left-handed relief and fourth and fifth outfielder possibilities -- I'd say in that order of priority."
With the remainder of the bench, I presumed -- I believe correctly -- that Chin-lung Hu's role would be as a backup middle infielder, not directly in the second base competition. Is that correct?
"I think that's the likely result. I think we view him as a very capable defensive shortstop, and provides us some insurance there, as well as at second base -- maybe late-inning defense at second, given what we have there at the moment, and foreseeably what we will have there at beginning of spring training. I think that's the likely role for him. We'll let spring training play out."
Given that you gave up an upper-level minor league pitcher (Mike Antonini), and given that Hu is out of options, the acquisition was made with the mindset that he would probably be the guy to emerge in that role (as opposed to Luis Hernandez)?
"Yep."
In terms of second base, Luis Castillo -- in addition to Oliver Perez -- is a lightning rod for the fan base. If Castillo does not win the second base job, is there another role for him on this team? He does not have a lot of pop, or run-producing ability as a pinch-hitter. And I don't know that he's capable of playing multiple positions. Is it kind of second base or bust for him?
"Well, that's certainly his best role on the team. If he's going to be on the club, it probably will have to be as the regular second baseman, or somebody who plays quite a bit of the time at second base. He just doesn't give us enough coverage other places to play a utility role. So I would say he needs to have a role on the team. And I think that's probably his best and maybe only role -- regular duty at second base."
Will Daniel Murphy exclusively play second base in spring training until it is determined whether he is the starter there? Or would he be exposed right away to first base, third base, left field as well, so that he could be fully prepared to be the versatile lefty hitter off the bench if he does not win the second base job?
"That's something Terry will have to decide -- how to allocate his at-bats and his playing time. As you know, we've got a number of candidates there. He's certainly one of them. We've got two right-handed-hitting candidates: [Justin] Turner and [Brad] Emaus. They can also play some third base. We'll see how it plays out. But I think one of the issues for us is we need to get a good look at Murphy at second base as opposed to Emaus and Turner. We know they can play second. We've got a good sense of their abilities. But, very definitely, we need to have a better sense of what Murphy can do there. So I'm sure he'll get lots of playing time there. But that's up to Terry to decide."
Johan Santana's timetable for picking up a baseball and tossing following shoulder surgery had been moved up to early January. Has that occurred yet? Is it imminent?
"I think he's supposed to be seen by doctors this week or next -- maybe this week -- to get a clearance to do that. So I would expect once he obtains that clearance he will go ahead and start throwing. I don't think that has occurred yet."
You would imagine that would be near his home in Fort Myers, Fla.? And you're not dispatching someone there to monitor it, correct?
"Not in these early stages I wouldn't expect that. No."
Is the full expectation that Ryota Igarashi goes unclaimed because of his $1.75 million salary in 2011 and is in camp with you without being on the 40-man roster?
"Well, he's still designated. We have not requested outright waivers yet to put him through that process. Depending on what happens over the next couple of days, I would expect that to happen this week."
Given his salary, that roster move to clear room for Chris Capuano and Taylor Buchholz was made with the presumption that he would go unclaimed and be in camp with you?
"That was the assumption."
With Jose Reyes, you had said you did not want to have any extension talks this offseason. Will there be a moratorium during the season? Is spring training the right window for that discussion? Or will there be no talks at all?
"I don't have a hard, firm policy about that. We'll see what happens as we get into spring training and go from there and make a decision as to when and for how long to discuss that possibility, and whether or not to have some moratorium during the regular season. But at this point I personally don't have a hard and fast policy about that."
Would you agree that the decision with Jose Reyes will be the first major player decision of your tenure? I mean, Jose is the longest-tenured Met. He has meant a lot to the organization.
"I don't know. I consider every player acquisition to be a significant decision. Right now, we're focused on the 2011 season. Each of these player acquisitions that we make is important. That's where my attention is placed at the moment. Certainly what happens with Jose in the future will be the subject of conversation and important to the future of the franchise one way or the other."
Really jumping around, have Howard Johnson and Dave Jauss had new roles assigned to them yet?
"That's in the process of taking place. I think the answer is yes. But at least those discussions are taking place. I expect those will be resolved, if it hasn't already, during this next week."
Had you had an opportunity to meet with Omar Minaya? And does he have a future role with the organization?
"I did have dinner with Omar last week. We had a nice conversation. At this point we'll just wait and see where that leads."
If I could press you on that, is there a role in the organization for him if he's amenable?
"I think there's a role for him if he wants to pursue it. But that will be the subject of an ongoing conversation."
Finally, had you hired a new clubhouse manager to replace Charlie Samuels?
"We did hire a new equipment manager -- Kevin Kierst, who was the equipment manager in Port St. Lucie."