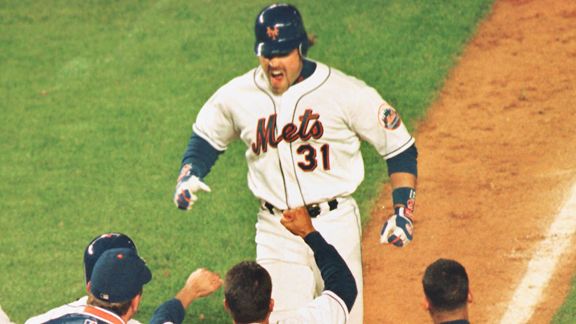 Lou Requena/AP Photo
Mike Piazza's walk-off home run against Trevor Hoffman in April of 1999, was part of the success the Mets had against the now-retired closer.
Even though the Mets hit only .192 against Trevor Hoffman, they had a good run of success against him.
Hoffman, who retired as baseball's all-time saves leader Tuesday, had 33 of his 601 career saves against the Mets, third-most of any pitcher against them.
Trevor Hoffman
Career vs Mets
But Hoffman had seven blown saves against the Mets, tied for his second-most against any team. The only club against whom he had more was the Giants, with nine.
Hoffman converted 82.5 percent of his save chances against the Mets, his second-worst rate against any NL team. (The only one he was worse against was the Reds -- 80.5 percent.)
One of the reasons that the Mets did so well against Hoffman was that they had the player who was his kryptonite -- Mike Piazza.
The most noteworthy of the five home runs that Hoffman gave up to the Mets was a two-run walk-off blast to Piazza on April 28, 1999. The Elias Sports Bureau reported at the time that it ended a Padres streak of 181 straight wins when leading after eight innings.
Piazza is the only player with two walk-off home runs against Hoffman. (He also hit one with the Dodgers in 1995.) Piazza finished his career 7-for-16 with four home runs against Hoffman, tied with Dante Bichette and Scott Rolen for the most home runs against him.
The Mets had frequent success against Hoffman through the 2000 season. He had five of his seven blown saves against them in that span.
From 2001 on, in his last 24 appearances against the Mets, Hoffman only allowed runs twice.
That allowed him to finish his career against the Mets strong. His 33 saves against them trail only Lee Smith and Bruce Sutter, each of whom had 38.
The last one came in the second game of a doubleheader last Sept. 29, when he retired Jesus Feliciano, Josh Thole and Joaquin Arias to close a 3-1 win for potential future Met Dave Bush.
It would be the last appearance of Hoffman's illustrious career, one that may someday be commemorated with a plaque in Cooperstown.