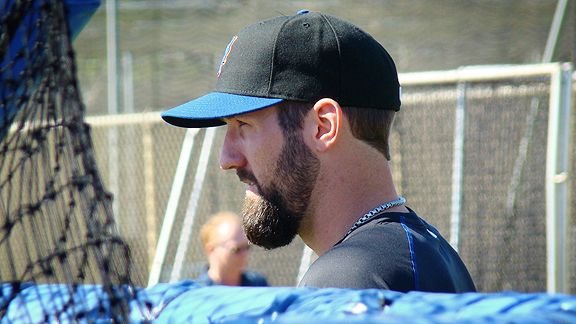 Adam Rubin
Outfielder Jason Pridie, sporting a thick beard, arrived in Mets camp Tuesday. He decided to remain with the organization after clearing waivers, and will be in camp as a non-roster invite.
Outfielder Jason Pridie's 2010 season in the Mets organization was a series of false starts, with three separate right hamstring tears suffered during the year.
"A total lost year," said Pridie, who arrived at Mets camp on Tuesday.
Pridie, 27, hit .282 with three homers, 19 RBIs and nine steals in 39 games in April and May with Triple-A Buffalo and felt he was in good position to ultimately replace stumbling Gary Matthews Jr. on the major league roster.
Then the hamstring woes began, sidetracking his season. He came back in June, reinjured it in his first at-bat, then had a second recurrence in Florida after rehabbing again. All in all, he missed 103 of Buffalo's games while sitting on the Triple-A disabled list.
"I came in feeling good, and down there in Buffalo had one of my better years I've had all over," said Pridie, who appeared in 11 games for the Twins in 2008 and '09 before being claimed off waivers by the Mets. "It was tough to take what happened. I felt like I was about a week away with everything that happened with Gary Matthews. When that happened, it was kind of tough. And then it happened again. And happened again. First at-bat tore it [with Buffalo after returning], and then a couple of games down here did it again. It was tough to handle, but what can you do? After that third time I tore it, we just said shut it down, just do the rehab [at home] in Phoenix at a physical therapy place."
The Mets designated Pridie for assignment, along with Tobi Stoner, last month to clear 40-man roster room for Chris Young and Scott Hairston. Pridie cleared waivers, but decided to stay with the organization, despite having the right to declare free agency.
He reasoned that the Mets did like him, in spite of being removed from the roster. He also knew he had supporters on the 2011 major league staff in former minor league field coordinator Terry Collins and his former Triple-A manager Ken Oberkfell, who has been promoted to bench coach.
Pridie nonetheless likely has a difficult chore to make the Opening Day roster as a backup outfielder, given that Hairston received a major league deal, Willie Harris is in camp, and Nick Evans remains on the 40-man roster and is out of options.
"There's a lot of stuff that goes into it, but when it came down to it, I still felt like the Mets had a good grip on what I could do," Pridie said. "With TC being the new manager, he saw me all last year, and Obie on the bench. It seemed like even though they took me off the roster and everything, they still liked me enough to offer me a contract and want me to be here. I think out of everything, this was definitely my best opportunity to still get to the big leagues. I'm in big league camp and doing all that stuff. I was out of options anyway. I didn't have a spot guaranteed no matter what. I'd have to earn it regardless. Obviously it's nicer when you're on the roster. It's a little simpler. But when it comes down to it, you've still got to perform. I'm still coming in with the same attitude."