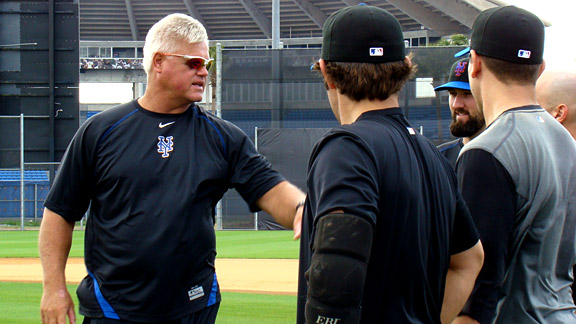 Adam Rubin
New bullpen coach Jon Debus interacts with early arrivals at Mets camp.
Before New York Mets players voluntarily working out at the team's spring-training complex took batting practice Thursday, manager Terry Collins and new bullpen coach Jon Debus regaled them with tales of the differences between baseball in Japan and the United States.
Collins and Debus offered one story of espionage, too.
Debus worked as a coach with the Orix Buffaloes during Collins' season-and-a-half managing that club, in 2007 and '08. And the duo was entertaining Mets players with how secretive the opposing starting pitcher would be kept until lineup cards were formally exchanged in Japan.
Clubs even planted team employees in the stands, trying to gauge which opposing pitcher looked most like he was preparing to pitch that day, so their own team's lineup could be constructed with the proper lefty-righty balance.
"Certainly some of the things they do over there are great, and some of the things you don't understand," Debus said. "And I don't think you'll ever understand them. But I had a great time. And I'm sure it helped both of us baseball-wise."
The 52-year-old Debus' relationship with Collins goes back far longer than the Asian experience. Nearly three full decades, in fact.
Debus, a 10-year minor leaguer in the Los Angeles Dodgers organization, even played for Collins at Triple-A Albuquerque in 1984 and '86.
"We've been friends for a long time," Debus said. "I have an unbelievable amount of respect for him. It's a great combination. We work well together. We're really good friends."
Collins has earned the reputation as a high-strung manager. Debus described the 1980s Collins not too differently.
"He's a high-energy guy, and he demands you play the game properly," Debus said. "He's intense. Anything he asks you to do is baseball-related and, basically, to play the game the way that it's supposed to be played -- have respect for the game. And I don't have any problem with that at all. I think everybody should follow that credo."
Debus replaces Randy Niemann as Mets bullpen coach. Niemann is returning to his previous role overseeing rehabbing players in Port St. Lucie.
Six of Debus' 10 professional seasons as a player were spent in Triple-A. For his career, he played 221 games at third base, 84 games at catcher, 83 games in the outfield and 30 games at first base.
He will serve as catching instructor for the Mets in addition to overseeing the bullpen, which means working closely with Josh Thole.
"Some guys can be very firm," Thole said about my-way-or-the-highway coaching. "He's more like, 'Try it.'"
"That's my forte -- catching," Debus said. "I spent a lot of time as catching coordinator, teaching catching [with Los Angeles]. I've truly been blessed to have been taught by some of the greatest catchers in baseball. I was with the Dodgers organization for over 25 years. You're talking about the [Roy] Campanellas and the [John] Roseboros and Del Crandalls and Mike Scioscias and Kevin Kennedys. I had those guys teach me. They were all different. I hope that I bring something to the table from each one of them, and I use them every day. I'm a lucky guy to have gone to that university."