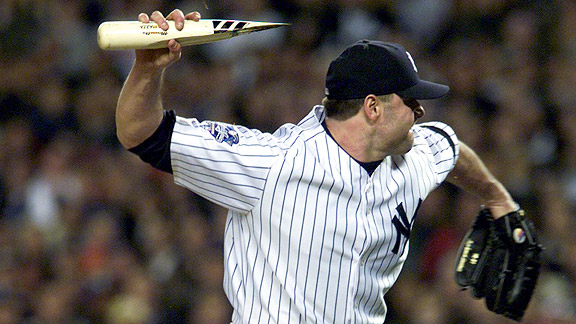 Matt Campbell/AFP/Getty Images
Roger Clemens joked Friday night that his batting-throwing form "was impeccable."
Friday night, at a charity event in Uncasville, Conn., Roger Clemens had to say this about throwing a bat in the direction of Mike Piazza during the 2000 Subway Series: "I just remember my form being really good when I threw the bat. My form was impeccable. I fielded it perfectly. My arm angle when I whistled it on-deck was a little low."
Andrew Marchand, who covered the event for ESPNNewYork.com, writes:
During the banquet, Clemens reiterated that after he hit Piazza, he called over to the Mets' clubhouse to check on him. Clemens didn't finish the story, but it's been reported previously that Piazza did not accept Clemens' call."I think I pitched 24 years in the major leagues and I think I missed up above the shoulders three times," Clemens said. "Just like I tell any kids or any professional or anytime I get to talk in public, you don't pitch inside to hit people."
Read Marchand's full story here.