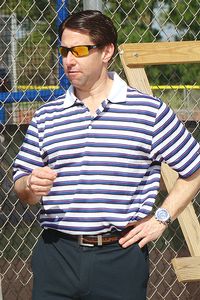 Adam Rubin
Jeff Wilpon at Mets' complex in Port St. Lucie on Wednesday.
Jeff Wilpon spoke Wednesday morning in Port St. Lucie. Here are his comments:
How are you doing given the circumstances?
"I'm doing fine. This is all obviously a little bit of a distraction, and I feel really bad for our family and bad for my dad and my uncle because this is just unfounded criticism on them. They've had years and years that they've been good citizens, good businessmen. And to attack them the way they've been attacked is really very unfair, unfounded and that's all I really want to say on that."
What has been the toll on Fred [Wilpon] and Saul [Katz]?
"They're handling it. Obviously you'd like not to deal with it, but it's just unfortunate the attacks have come on them. We're going to fight it and we're going to be victorious in the end."
What was the advice to Terry Collins?
"'Don't worry about it.' This is an ownership issue. This is a Sterling Equities issue. It has nothing to do with what goes on here. As you know, our payroll is going to be -- what? -- $145, $150 million. That's tops in baseball, or right up there. We're going to be committed to make sure all the resources are here to continue to run this team the way it's been run."
Could it be affected in the future?
"I don't see it affecting things. We're going to continue to make it work and move forward."
If Jose Reyes is the right fit for the team long term, nothing with this situation will impede his re-signing?
"Yes. You've got to ask Sandy [Alderson] that. Sandy has the ability to run the team. He did that this offseason. He will do it. We're looking at budgets. We're looking at numbers for 'out' years. There's some with Jose in it. There's some with Jose not in it. And that's just prudent planning."
Are you concerned about potential distraction to team?
"Not at all. This is business as usual. I've spoken to a number of the guys. A number of the guys were nice enough to call when this all broke a couple of weeks ago and have been extremely supportive. They just want to get out there and play baseball. And I'd like to be talking about baseball and not any of this."
Is part of the team for sale still?
"We're exploring our options. We could go that way. We could explore other options that are on the table, and there are a lot of things that we're going to look at. But, again, we're not going to give daily updates or weekly updates on what and how we're doing."
Can you say what type of interest there's been in purchasing a stake of team?
"A lot of interest. A lot of interest. And good interest from real people that you haven't read about in the papers, OK? Most of what you've read about in the paper is not real."
And it's just a minority interest? You're not selling a majority share?
"That's it. We're not giving up control."
Expectations for team?
"I think we've got to get healthy and we've got to see who is going to perform. If you're look in Terry's -- I was in there before -- and look at the number of guys on the board with real talent, there are enough guys there. Now it's a matter of seeing who and how they [work] out during spring training. Everybody's hopeful."
Relief to be here around baseball?
"Yeah. Right this second [talking to media]? Maybe not. In general, yeah, it's great. Seeing the guys and having the support of the guys around us and wanting to get out on the field and start to prove that what everybody's saying -- that this team is not very good -- they want to prove we're going to be a good baseball team."
Was it important to be here?
"No. This was my plan from two months ago to be here on this date at this time, and to be here for the opening of camp. Nothing has changed."
Can you say unequivocally that your family won't have to sell controlling interest of the team?
"Yeah. We're not selling controlling interest of the team. It's not on the table."
Will this get successfully mediated by Mario Cuomo?
"Listen, as Fred and Saul said last week, the judge ordered a mediation. We're complying with that mediation. And it's in the lawyers' hands. I can't comment on that at all."
What did you think of Bernie Madoff's comments Tuesday?
"I'm not going to discuss that."