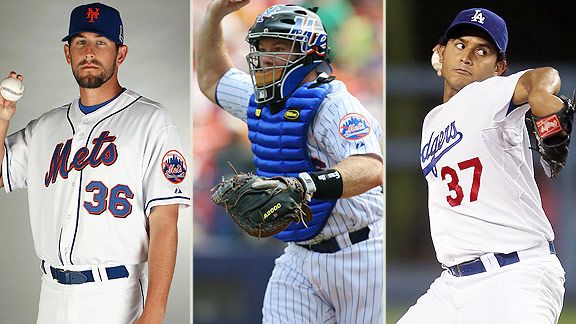 Getty Images
Darren O'Day (left, 2008), Kelly Stinnett (center, 1993) and Carlos Monasterios (right, 2009) were all Rule 5 picks by the Mets.
With Brad Emaus perhaps the frontrunner to emerge as second baseman, and with Terry Collins speaking positively about fellow Rule 5 pick Pedro Beato as a candidate for the bullpen, Major League Baseball provided ESPNNewYork.com with a list of the Mets' Rule 5 picks in the major league phase over the last two decades, as well as their fates.
The short version of the rule: If the Rule 5 pick sticks on the Mets' major league roster for the entire season, he becomes the organization's property. Otherwise, he must be placed on waivers. If he clears, he must be offered back to his original club -- Toronto with Emaus, Baltimore with Beato -- for $25,000. It cost the Mets $50,000 apiece to select the players in the Rule 5 draft in December.
1990 - LHP Doug Simons (1991 with Mets: 2-3, 5.19 ERA, 42 G; 1991 was his only year with the Mets; traded April 2, 1992 to the MON for Rob Katzaroff)
1992 -- RHP Mike Draper (1993 with Mets: 1-1, 4.25 ERA, 29 G; released Sept. 29, 1993)
1993 -- C Kelly Stinnett (was a Met in 1994-95; later traded to MIL for Cory Lidle)
1994 -- RHP Kevin Lomon (1995: 0-1, 6.75 ERA, 6 G; returned to ATL May 30, 1995)
1996 -- LHP Jim Baron (was returned to SD at end of spring training; never reached majors)
1999 -- RHP Jim Mann (2000: 0-0, 10.13 ERA, 2 G; Technically returned to TOR on March 22, 2000, then acquired by trade for Jersen Perez)
2000 -- RHP Julio Santana (was returned to SF in March 2001; had stops in the majors in 2002 (DET), 2005 (MIL) and 2006 (PHI))
2003 -- LHP Frank Brooks (was selected by Mets from PIT and then traded to OAK on same day; then got claimed by BOS from OAK and ultimately was returned to PIT)
2005 -- RHP Mitch Wylie (released at end of spring training after SF did not accept back; re-signed on minor league deal and spent 2006 with Mets' Triple-A Norfolk affiliate; never reached majors)
2007 -- RHP Steven Register (was returned to COL in March 2008; had cups of coffee for a total of 11 major league games in Majors with COL (2008) and PHI (2009))
2008 -- RHP Darren O'Day (pitched four games for 2009 Mets before being claimed by TEX on April 22 and having great years for Rangers in 2009-2010)
2009 -- RHP Carlos Monasterios (selected by the Mets but traded to LAD on same day; went 3-5 with a 4.38 ERA in 32 G, including 13 GS, for LAD in 2010)
Also note that in the Triple-A phase of the 2004 Rule 5 Draft, the Mets took Henry Owens (3 G with 2006 Mets before being traded to FLA with Matt Lindstrom in November 2006).