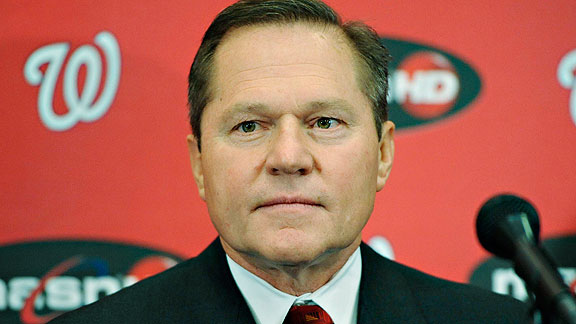 Rafael Suanes/US Presswire
Agent Scott Boras said Carlos Beltran will succeed no matter the position.
Carlos Beltran will make the call whether he wants to pursue jobs as a center fielder or corner outfielder when he becomes a free agent next offseason, agent Scott Boras said Tuesday. Whatever Beltran chooses, Boras added, his client will handle the role capably.
Beltran approached New York Mets manager Terry Collins on Monday morning and volunteered to move to right field this season. That avoided what might have been a tough decision later in camp if Beltran was not on board with swapping outfield positions with Angel Pagan, who now moves to center field.
Beltran, who had decreased mobility during last season's second half after returning from Jan. 13, 2010 surgery to clean out his right knee, cited a desire to put the team first. He also suggested right field would be beneficial in lessening the wear and tear on his arthritic right knee, which could keep him in the lineup more this season as well as prolong his career. Beltran is due to be a free agent next offseason, after completing a seven-year, $119 million contract.
"That's something that Carlos will have to evaluate," Boras told ESPNNewYork.com by telephone about Beltran's role in 2012 and beyond. "Obviously, the athlete is going to direct you with information about what he is most comfortable doing."
Beltran is planning to make his first Grapefruit League appearance during the upcoming weekend as a designated hitter, although Boras said in another report that DH would not be a role Beltran would have in 2012. Collins said Beltran likely will play right field in an exhibition game seven to 10 days after first appearing in the Grapefruit League as a DH.
"The key thing we're trying to work on right now is we're getting his running stride reestablished, renewed strength in his leg, and maybe even greater strength than he had before," Boras said. "Running strides, when you go through this process, are certainly the foundation to really begin the process of skill play. And until we walk through that process and Carlos gets out and plays a significant number of games, only then can we know how he feels about what outfield positions he may want to take on."
Beltran consulted with former teammate Carlos Delgado, wife Jessica and Boras before volunteering to make the move. He has played only three major league games in right field, all for the Kansas City Royals in 2000.
"When you have the component of a veteran player -- and a player who is probably most in tune with what his contribution can be to a major league team after he reviews the talent that is on the team -- certainly he' probably most qualified to make that decision," Boras said.
Boras added that Beltran will excel no matter where he is positioned.
"Carlos Beltran, if he's playing any outfield position, he's a great athlete," Boras said. "He's an extraordinary talent. I think there are a lot of teams that understand that Carlos' talent level is not the issue. The issue has been the durability of his leg. And certainly we've taken all the steps, and Carlos has done all the work, to restore that.
"So, really, what I care about mostly is what he's most comfortable doing. And from that standpoint, if he's got to camp and made that assessment, then I'm sure he's very comfortable with that decision. I think it's going to help him play at a higher level."
Would Beltran be more marketable having been exposed to right field?
"I'm sure that if Carlos chose to, that Carlos could play any outfield position he chooses," Boras said. "I think for this team, and at this time where he feels he's at, if that's the decision he's made, he's most comfortable playing right field."