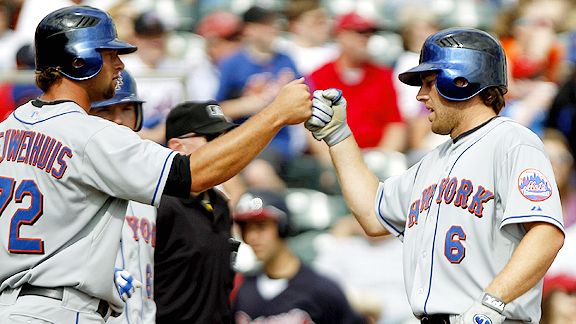 AP Photo/David Goldman
Nick Evans (6) is greeted by teammate Kirk Nieuwenhuis after scoring on a Fernando Martinez's two-run double.
Fernando Martinez's two-run double keyed a three-run sixth against Anthony Varvaro, a product of Curtis High School in Staten Island and St. John's University, and Justin Turner had an RBI double an inning later. But after nearly climbing out of a five-run hole after going hitless the opening five innings, the Mets ultimately lost to the Atlanta Braves, 6-4, on Saturday at ESPN Wide World of Sports.
The details:
• Mike Pelfrey has a history of miserable spring trainings, going back well before he had a 6.15 ERA and allowed eight homers in 26 1/3 Grapefruit League innings last year and then opened the regular season with a 9-1 record.
On the final day of camp in 2008, in a head-to-head matchup with Orlando Hernandez for the final rotation spot, El Duque limited the Baltimore Orioles to one run and four hits in five innings in Fort Lauderdale despite only registering 80-81 mph with his fastball. Pelfrey then couldn't close out the victory. With two out and two strikes in the ninth, he surrendered three straight run-scoring hits and the Mets lost, 4-3. He finished that spring with an 8.14 ERA.
"I thought for sure I was getting sent out after that," said Pelfrey, who ended up with the rotation spot anyway, with Hernandez opening that season on the disabled list.
So forgive Pelfrey is he is unfazed by spring-training results.
"I can't really pinpoint it," he said. "For some reason I have a hard time getting people out in March, I guess."
Added Pelfrey, joking: "Maybe it's Florida." (He has a career 1-6 record and 5.32 ERA against the Marlins, against whom he will start on Opening Day.)
Pelfrey continued his tune-up Saturday for a season-opening start in Miami. He allowed two runs (one earned) and four hits in three innings and had no walks or strikeouts while not exactly getting exceptional fielding help.
Pelfrey was charged with a second-inning run when Ed Lucas dropped a two-out single in front of Martinez in right field on a 1-2 hanging curveball. The run was earned, although it could have been unearned. Second baseman Brad Emaus was unable to cleanly field Brian McCann's leadoff grounder. Emaus originally was charged with an error on McCann's grounder, but the scoring was changed to a hit minutes after it was announced as an E-4.
"The grass came up," Emaus said about his slip.
Pelfrey surrendered a second run in the third, although there was not much hit hard that frame beyond a leadoff double to the left-center gap by opposing pitcher Derek Lowe. Ike Davis fielded a bunt by Nate McLouth in what Pelfrey labeled "no man's land" and it became an infield single that advanced Lowe to third. David Wright then fielded Joe Mather's routine grounder and had Lowe caught breaking for the plate. The throw was well wide of catcher Josh Thole, however, and Wright was charged with an error as Lowe scored to give the Braves a 2-0 lead.
"I thought the ball came out better than it did last start," said Pelfrey, who said he needs to sharpen his split-finger fastball. "I thought I made some good pitches. I thought my sinker was better today. Of course I made a couple of mistakes. I hung a curveball to the shortstop [Lucas] and obviously Derek Lowe with a leadoff double. But I thought it was better today."
Said Terry Collins: "I think he's right on track. I really thought he was down in the zone. … He's starting to get his velocity going. So I was happy with the way he threw."
Pelfrey credits part of his success last season to calling sports psychologist Harvey Dorfman between starts. Dorfman recently passed away, but Pelfrey said he will continue with another sports psychologist also employed by his agent, Scott Boras.
• Emaus started at second base and went 0-for-1 and was hit by a pitch and walked. He grounded into an inning-ending double play with two runners on base in the second against Lowe after ex-Marlins second baseman Dan Uggla's error on a would-be double play had prolonged that frame.
"The description was, look, this guy makes a pitcher work. He gets on base. He draws walks," Collins said about Emaus at the plate.
As for the fielding miscue, Collins said: "He slipped. I mean, he catches that ball if he doesn't slip. But you saw the other day, he turned the double play a couple of times. Today he turned a couple. He's exactly what they told me he was."
• Dillon Gee, who is ticketed for the Triple-A Buffalo rotation with Jenrry Mejia to open the season despite a solid September, allowed three fifth-inning runs. Wilkin Castillo delivered an RBI single and Chipper Jones had a two-run homer. Jones was making his second start at third base this spring training as he returns from knee surgery.
"I just fell behind 2-0 and threw a fastball down the middle," Gee said about the pitch to Jones. "He hit it out."
As for likely heading to Buffalo despite going 2-2 with a 2.18 ERA in five September starts in the majors, Gee said: "If that's what it is, that's what it is. I don't really try to think about it. I just try to go out there and pitch, and wherever they send me I'll try to do my best."
• Rule 5 pick Pedro Beato, who is a product of Xaverian High in Brooklyn, has been drawing rave reviews from scouts and may not find his way back to his former employer in Baltimore. Beato tossed a scoreless seventh inning that included one walk and a wild pitch while registering 93-95 mph with his fastball. He benefited from a solid play by Turner on the outfield grass at second base.
"Today was probably my worst one," said Beato, who has allowed one run in four spring innings, on an Eric Hinske homer. "I was up in the zone a lot. I just need to keep my pitches down, but it's going to happen. I'll just work on it and hopefully the next time it'll be a lot better. Today I just couldn't get the landing on the mound and was flying open and leaving everything up. Everything was flat."
Said Collins: "He's got a good arm. Again, the scouts were dead on with him. I can see why we drafted him, when you've got that kind of arm. He's handled himself very, very well in this camp."
After the appearance, Beato recalled playing sandlot baseball with the Braves' Varvaro during their younger days at the Parade Grounds in Brooklyn, at the southern end of Prospect Park. Varvaro pitched the previous half-inning Saturday.
Beato had been working on his stride length during bullpen sessions with Dan Warthen and Francisco Rodriguez. He and right-handed prospect Josh Stinson even wear during those sessions a cleat with spikes on their right feet and a sneaker with no spikes on their left, landing feet. That way, they learn to step further because they're hitting the ground later.
• Collins also has been complimentary of ex-Brave Blaine Boyer, a right-hander in camp on a minor league deal. Boyer surrendered a two-out RBI double to Diory Hernandez in the eighth.
• Nick Evans went 1-for-4 Saturday and is hitting .389 this spring, but the out-of-options corner infielder/outfielder appears to face an uphill battle in making a five-man bench that should include Ronny Paulino (or Mike Nickeas until Paulino is eligible), Chin-lung Hu, Scott Hairston, Willie Harris and Daniel Murphy (assuming Eamus wins the second base job, which appears the direction that's headed, with Luis Castillo heading toward being released).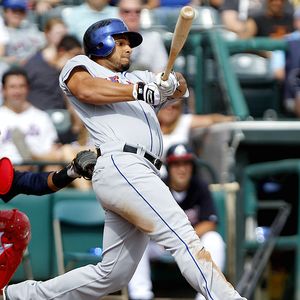 AP Photo/David Goldman
Fernando Martinez doubles during a three-run sixth.
"He brings a lot to the party," Collins said about Evans. "He can play first. He can play third. I stuck him in the outfield today because I thought it was important that we see him out there. And he's hit the ball as hard as anybody in the camp. So there's a place for that bat somewhere, if there's room for it. I'd like to have it sitting on that bench over there if I can. As this all takes shape, Nick's going to get a legitimate chance to be on this club."
Forecasting rosters four weeks out can be difficult for multiple reasons, including the fact that injuries occur. Last year, Frank Catalanotto and Mike Jacobs were jockeying for the final spot. Then Murphy injured his right knee and both made it.
• Catalanotto, by the way, was at the Mets' complex Saturday with Team Italy. He also will help coach the team in a tournament in Panama in late September. Catalanotto said he enjoys coaching the Italians because they have low baseball IQs because they are unfamiliar with the sport and soak up information on strategy.
Catalanotto, who hails from Smithtown, Long Island, does not want to coach full time because he wants to devote time to his family. You likely will see him with a limited presence on SNY this year.
• Martinez went 1-for-4 with two RBIs Saturday and is hitting .500 with a homer and four RBIs through 14 spring at-bats. Still only 22, the injury-plagued one-time top prospect is slated to play right field for Buffalo. He would be a phone call today if Carlos Beltran's knees act up and the veteran needs to head to the DL.
• Beltran is scheduled to appear in a Grapefruit League game for the first time in 2011 on Sunday when the Boston Red Sox visit Port St. Lucie. Beltran will serve as DH and get two or three at-bats. Collins estimates it will be another seven to 10 days beyond that before Beltran appears in a game in right field.
"I just want him to start seeing the live pitching," Collins said. "... I'm going to tell you guys: Don't look for him to steal. He's not doing it. I just want him to get out there and run the bases if he can. As I told him when we decided to do this, I said, 'Look, don't be embarrassed by the fact that you're not ready to run full speed yet. I've got to get those at-bats for you. That's most important.'"
Collins said he's hopeful Beltran will come out of Sunday's game feeling well enough to want to DH on Monday for two at-bats as well.
• Jon Niese originally was scheduled to face Boston left-hander Jon Lester, but Lester was scratched because of the flu and will be replaced by right-hander Michael Bowden.
Armando Rodriguez, K-Rod, Taylor Tankersley, Manny Alvarez, Stinson and Boof Bonser also are scheduled to appear for the Mets. The Red Sox also list Hideki Okajima, Andrew Miller and Rich Hill as probable pitchers.
• R.A. Dickey gets Monday's game against Detroit in Port St. Lucie opposite Brad Penny. Oliver Perez, in undoubtedly his last start, gets one game Tuesday, with Chris Capuano getting the other split-squad start that day. Perez is expected ultimately to be released, but an intermediate step may be assigning him to the lefty specialist competition in the bullpen.