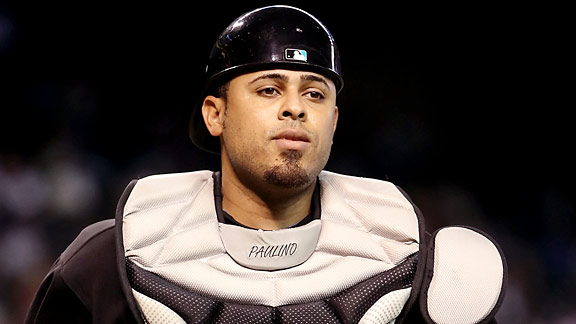 Christian Petersen/Getty Images
Ronny Paulino, who played for the Marlins last season, finally had his visa granted Friday and traveled to the United States. He will be at Mets camp Saturday.
After a long and frustrating wait, catcher Ronny Paulino on Friday obtained a visa and traveled to the United States to report to spring training with the Mets.
Paulino told Licey.com, the web site of the Licey Tigers, his winter-league club, that he will report to camp on Saturday.
"I would like to thank the American consulate in Santo Domingo for its work and professionalism. Thanks to all who had to do with my process," Paulino said in Spanish.
Paulino, 29, signed a one-year, $1.3 million contract with the Mets in December, but he experienced problems obtaining a visa because he was suspended 50 games for violating Major League Baseball's ban on performance-enhancing substances. He has eight games remaining on that suspension.
Paulino said he has practiced daily in the Quisqueya Stadium in Santo Domingo to get in playing shape for the Mets.
"I know the commitment I have in front of me is great and so I have been working daily with a trainer and on my hitting and my defense," he said. "During this time I have been in communication with the Mets and I will not abuse the patience and the trust they have placed in me."
Paulino hit .259 with four homers and 37 RBIs for the Florida Marlins in 2010. He is slated to be Josh Thole's backup at catcher.
"He's a very good offensive player, who is going to spell Josh and hopefully be productive at a position where we want to give Josh some time off," Mets manager Terry Collins said.
The Dominican catcher had to undergo a longer process to get his work visa due to the 50-game suspension after testing positive for a banned substance.
"We're going to push the envelope a little bit here in the next couple of weeks to try to do as much as we can to get him as ready as possible, and then use that extra week to get him playing time," Collins said. "The hardest part is the minor league season doesn't start until the 7th [of April]. He can still go get a couple of games in before he does report [to the majors]. We'll make use of the minor league side as best we can."
Said Paulino: "I've learned my lesson. My family, my staff and my friends have been supporting and guiding me."