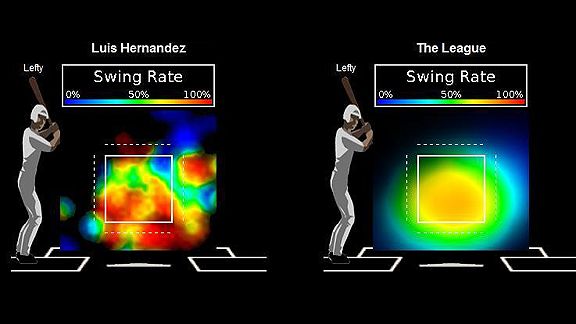 The illustration above shows Luis Hernandez's swing rate by location against "slow stuff" (breaking balls and changeups) when hitting left-handed (2008 to 2010).For those who favor Luis Hernandez for the Mets starting second baseman role, we should make you aware of the primary flaw that hitting coach Dave Hudgens might wish to address.
The switch-hitting Hernandez has a .286 career on-base percentage, not something likely to be well-received by the Mets front office. It's a number that's even lower (.275) when he bats left-handed against right-handed pitching. And there's a reason for that.
Let's explain using the illustration at the top of this article. For those unfamiliar that picture is what's known as a heat map. It uses color shading for data analysis, with blue, green, yellow and red, marking increased levels of frequency or skill.
The tool that generates this heat map uses data gathered from Pitch F/X, a three-camera based video tracking system that calculates pitch location and type. The square adjacent to the batter is an approximation of his strike zone, with the dashed lines indicating areas just off the edge of the plate, to account for pitches that are close calls.
In our case, we'll use this heat map to get very specific. We want to know what Hernandez's kryptonite is. We think we've found it.
What this heat map shows is a comparison of Hernandez's swing rate against breaking balls and changeups as a left-handed hitter over the last three seasons (the left side of the picture) compared with the rate of other lefty-swinging major leaguers (the right side of the picture) in that same span.
Granted, the sample size in Hernandez's case is small (168 pitches of those types), but it's enough to formulate a color pattern from which we can make an analysis.
You can see the areas in which Hernandez swung most frequently—they're the ones shaded yellow and red. Hernandez is more eager than your typical lefty in certain spots, much more so actually. That's why there are those ankle-high and shoulder-high red blotches in the illustration on the left.
This system gives Hernandez a chase rate of 47.5 percent.—meaning he swung at nearly half of the 'slow' pitches thrown to him out of the strike zone. That's not good. That's how pitchers frequently finished him with two strikes. It explains why he has lots of strikeouts, but very few walks.
A typical major league lefty hitter, in this same time span, had a chase rate of about 30 to 35 percent (depending on if you wish to include pitchers) against those pitches. If we rated every player's chase rate against these pitches, Hernandez would be at the bottom of the list, a significant contrast to Luis Castillo, who is among the best at laying off such pitches.
Most of the former players I've worked with on Baseball Tonight will tell you that those pitches are tempting, but that a good hitter will learn to lay off them. Hernandez isn't to that point, at least not yet. When Hernandez, hitting lefty, put these specific pitches (curves, changeups and sliders out of the strike zone) into play, he hit .190 against them. He might want to aspire to reach MLB-average level: .231.
What does all this mean?
It means that if Hernandez is the Mets starting second baseman, there's the potential for significant fan frustration as there was last season from that position. Except instead of wishing the second baseman could hit the ball further, your annoyance may be over why he chose to swing in the first place.