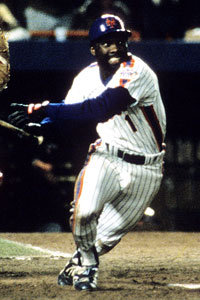 Ronald C. Modra/Getty Images
Mookie Wilson will get back his familiar No. 1 jersey with Luis Castillo's departure.
Luis Castillo's departure should pave the way for Mookie Wilson to again wear No. 1 with the Mets. And soon.
Wilson, who returns to the Mets this season as first base coach, had been assigned No. 53 by the Mets with Castillo having Mookie's old playing-days number.
Now, Castillo has been released. And there were indications Wilson would not have to wait until the regular season to get his familiar look back.