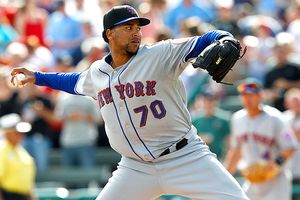 Derick E. Hingle/US Presswire
Pedro Beato wore No. 70 during spring training, but is switching to No. 27 for Opening Day as a tribute to Juan Marichal.
On the number front, right-hander Pedro Beato did get his No. 27, which is a tribute to Hall of Famer Juan Marichal.
Beato, like Marichal, hails from the Domincan Republic. Beato moved to New York in September 1999, at age 12, and graduated from Brooklyn's Xaverian High School.
Asked about the Marichal tribute, Beato said: "Heritage, the birthday is the same [week/Oct. 20th and 27], and he's a role model to follow."
Despite the bullpen turnover, the Mets will continue their tradition of the youngest pitcher carrying candy to the bullpen in a feminine-colored backpack. That becomes Beato's chore, since he is a Rule 5 pick with no major league experience. They also have a new wrinkle -- a workman's case they have nicknamed "Stanley" that has all kinds of gadgets that players and coaches contributed during spring training. Among the items: a Magic 8-ball and a hand-held fan.
By the way, fear not, baseball purists. The Mets will not be wearing black uniforms on Opening Day, even if those were the ones hanging in their lockers when they arrived at Sun Life Stadium on Thursday afternoon for a workout. The Mets will wear gray uniforms in the opener.