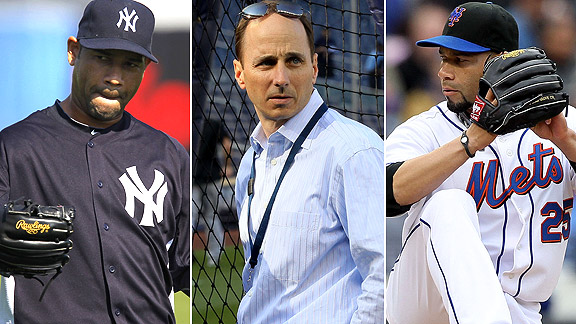 Star-Ledger/US Presswire/Getty Images
Yankees GM Brian Cashman (center) says Pedro Feliciano was abused as a Met (right) and therefore cannot pitch as a Yankees (left).
Pitching coach Dan Warthen says he is not an abuser.
On a day Yankees GM Brian Cashman said the Mets "abused" left-hander Pedro Feliciano and caused him to be injured after signing in the Bronx for two years, $8 million, Warthen said Feliciano setting franchise records for appearances three straight years (86, 88 and 92 games) was done willingly by the southpaw.
As for the Yankees committing -- and perhaps wasting -- their money if Feliciano is injured, Warthen said about the left-hander's heavy workload: "They didn't know that when they signed him? ... He volunteered for the baseball every day. He was asked whether he was able to pitch. He said 'yes' every day -- every day -- and wanted to pitch more than we even pitched him."
Regarding Cashman's comments, Warthen said: "I feel badly that someone feels that way. That was part of the reason we decided to not re-sign him -- because we knew we had used him 270-some times in the last three years."
Asked if was an appropriate remark coming from the Yankees, an amused Warthen said: "As you guys well know, this is the free world. You can say whatever you want."
Read Cashman's full comments in the story here.