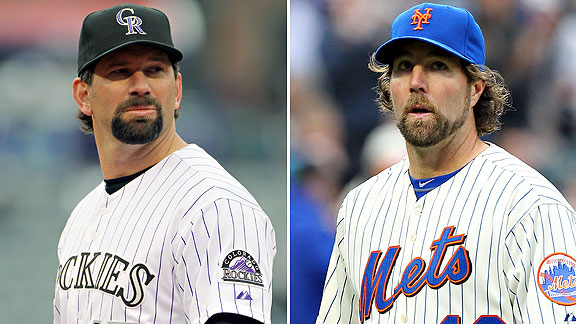 Getty Images
Todd Helton and R.A. Dickey were teammates at the University of Tennessee for two academic years.
Daniel Murphy is due to start for a second straight game at second base on Tuesday night, after a positive performance the previous day that included throwing out Seth Smith at the plate as well as making a diving stop on Carlos Gonzalez's grounder.
Brad Emaus is in an 0-for-12 rut, but should start Wednesday, since the Rockies are due to start left-hander Jorge De La Rosa. Still, Terry Collins said this is not a platoon situation.
"I thought his energy that he brings sometimes is infectious," Collins said about Murphy. "So I'd like to get him back out there tonight. I thought he earned the right. I haven't even gone down that road where I'm thinking about platooning anybody. I mean, Brad is probably going to get back in there tomorrow. I've certainly got to keep Chin-lung Hu active and make sure he gets back in there too. I just thought right now we need some big hits, and I think Dan swung the bat good enough to give us those."
• R.A. Dickey believes he will have no issues in his outing opposite De La Rosa on Wednesday. Dickey matched a career high with five walks while allowing three runs in five innings against the Nationals his last outing, and attributed much of the control difficulty to splitting the nail on his right index finger on a first-inning pitch to Ryan Zimmerman.
"No problem," Dickey said.
The Rockies, incidentally, are one of only three teams Dickey has never faced. The others: San Diego and Cincinnati.
Dickey is acquainted with Todd Helton, however. The two were teammates at the University of Tennessee for two seasons. They made a trip to the College World Series together in 1995, when Dickey was a conventional pitcher, before shoulder issues took away his fastball velocity. Helton also was a quarterback on the Volunteers football team.
"I actually tried to think about that today, if I remember him ever throwing a knuckleball [in college], and I can't recall," Helton said. "When you throw 97 mph with nasty sink, you don't need to work with knuckleball." (Dickey said he hit 96 mph a few times in college, but 97 might be too generous.)
Told Dickey is now a voracious reader with intellectual curiosity, Helton stopped an inquiry midsentence.
"Now?" Helton asked rhetorically. "He was always a little bit different. He was always a smart guy, always looking for the deeper meaning of life. Position players don't have that much time. We don't get the luxury of figuring that part of life out."
Said Dickey: "I remember one anecdote in particular. He was a quarterback in fall practice. And he came down in his pads just to get some ABs in a fall baseball game. He picked up a wood bat, he hit a homer, and put his pads back on and went back up to the practice field -- in between plays or something. He played football, so we would only get glimpses of him in the fall. But he's an incredible competitor, as fierce as I've ever been around."
• Francisco Rodriguez is due in Queens Criminal Court on Wednesday to provide a routine update on his anger-management training, he said. K-Rod has completed the Venezuela and Port St. Lucie, Fla., phases of that court-mandated training.
• Bobby Parnell may not be used on Tuesday night, with Collins not wanting to overburden the reliever after he threw 27 pitches in a three-run eighth Monday. Collins said he could foresee Taylor Buchholz or Jason Isringhausen handling the eighth if he stays away from Parnell on Tuesday night.
Still, Parnell's hold on the eighth inning appears to be fading.
As for Izzy's usage going forward, Collins said: "I'm intrigued to use him in those big situations. It may be the eighth tonight. Certainly Taylor Buchholz is throwing the ball good enough that I think he can go out there in the eighth inning if need be. Again, the situation of the game will dictate which guy I think should go where."