The weight of a disastrous 2010 season had been lifted from right-hander Brad Holt's shoulders even before he threw his first pitch this year.
The 33rd overall pick in the draft three years ago out of UNC Wilmington, Holt went a combined 3-14 with an 8.34 ERA in 24 appearances (23 starts) between Double-A Binghamton and then Class A St. Lucie after a demotion last season. His control problems included 79 walks and 17 hit batters in 95 innings.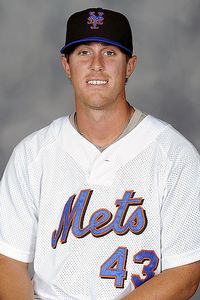 Courtesy of New York Mets
Brad Holt
But team officials swore Holt had started to make strides at the team's fall instructional league. Then, Holt's Arizona Fall League performance was positive enough that he actually was selected to the AFL's Rising Stars all-star game (although he eventually was scratched because of bone spurs in his right elbow that have since quieted).
By the time the 24-year-old Holt took the mound for his first 2011 start on Saturday at Akron -- at a site where he allowed five runs and recorded only one out last April before being pulled -- Holt's confidence mostly had been restored.
"I think the weight was kind of lifted more toward the end of instructs and in Arizona," Holt said. "Once I came into spring training I wasn't really too worried about the upcoming season. I felt really confident in being back on track and having whatever was causing the bad year to not be there."
Still, it did not hurt that Holt validated the renewed enthusiasm with a positive showing last weekend against Cleveland's Double-A affiliate. Holt limited Akron to three hits and two walks while striking out three in five scoreless innings. Rehabbing major league Grady Sizemore went 0-for-2 with a walk against Holt.
"My start there last year at the beginning of the season, it didn't go very well," Holt said. "I had that a little bit in the back of my head. But I was confident that nothing was going to change from the Fall League and spring training."
The problem in 2010?
"I think last year was just his command and just his maturity level on the mound," said Mike Nickeas, who caught Holt with Binghamton last season. "When something negative happened to him, he had a tendency to get down. From what I saw in the spring, and from what I hear from the guys who have spoken with him, he's made those adjustments and he's throwing the ball really well."
Holt acknowledged he even threw balls to the backstop last year. He labeled it a "mental year."
"I wasn't throwing strikes last year," Holt said. "Right now pitching in general is coming together for me. I'm learning when to use pitches, how to set up hitters the way I want. In order to do that, location is a huge part obviously. I think it's just using all four of my pitches. Now that I have the cutter, that's opened up a few more doors as far as how to attack a hitter. They stayed on me in spring training about using my changeup. It's become a really good pitch. My changeup has developed a lot. I used it a good bit in my start. I'm just mixing up my pitches and not staying so much fastball/curveball the whole time. I'm giving hitters more to look at."
Organization leaders
Average: Sam Honeck, Savannah, .412; Jefry Marte, St. Lucie, .333; Kai Gronauer, Binghamton, .313; Fernando Martinez, Buffalo, .313; Ruben Tejada, Buffalo, .304; Zach Lutz, Buffalo, .300; Nick Evans, Buffalo, .294; Javier Rodriguez, Savannah, .278; Josh Satin, Binghamton .250; Raul Reyes, Binghamton, .238.
Homers: Brahiam Maldonado, Binghamton, 2; Jason Pridie, Buffalo, 2; Javier Rodriguez, Savannah, 2.
RBI: Stefan Welch, St. Lucie, 5; Brahiam Maldonado, Binghamton, 4; Jason Pridie, Buffalo, 4.
Steals: Lorenzo Scott, Binghamton, 4; Jordany Valdespin, Binghamton, 4; Cesar Puello, St. Lucie, 2; Ruben Tejada, Buffalo, 2; Pedro Zapata, St. Lucie, 2.
ERA: Robert Carson, Binghamton, 0.00; Jose De La Torre, Buffalo, 0.00; Jeurys Familia, St. Lucie, 0.00; Matt Harvey, St. Lucie, 0.00; Brad Holt, Binghamton, 0.00; Chase Huchingson, Savannah, 0.00; Jenrry Mejia, Buffalo, 0.00; Greg Peavey, Savannah, 0.00; Mark Cohoon, Binghamton, 1.80; Scott Moviel, St. Lucie, 1.80.
Wins: Jose De La Torre, Buffalo, 2; Matt Harvey, St. Lucie, 2.
Saves: Jeffrey Kaplan, St. Lucie, 3; Nick Carr, St. Lucie, 1; Ryota Igarashi, Buffalo, 1; John Lujan, Binghamton, 1.
Strikeouts: Matt Harvey, St. Lucie, 17; Josh Stinson, Binghamton, 9; Dillon Gee, Buffalo, 8; Greg Peavey, Savannah, 8; Jeurys Familia, St. Lucie, 7.
Short hops
2010 draft picks Matt Harvey (first round, University of North Carolina) and Greg Peavey (sixth round, Oregon State University) have started off quickly in their first professional seasons with a combined 16 scoreless innings. Harvey, pitching for high-A St. Lucie, limited Palm Beach to five hits and two walks while striking out nine in his professional debut Thursday. He stranded five baserunners in his first two innings. Harvey then continued his dominance with six scoreless innings Tuesday at Fort Myers. He has 17 strikeouts in 11 professional innings. Peavey, pitching for low-A Savannah, touched 93 mph with his fastball while limiting West Virginia to two hits and one walk and striking out eight in five run-free innings. Peavey has a four-pitch arsenal (fastball, curveball, slider, changeup). Erik Goeddel, the other heralded right-hander selected in last June's draft (24th round), did not have as stellar a 2011 opening. The UCLA product, who was enticed to sign for $350,000 despite his later-round selection, allowed four runs in four innings for Savannah on Monday. Notable, however, was that Goeddel started the game. He was a reliever in college, and had not started since high school in 2007, before Tommy John surgery. Normally, using a prospect with a track record of relieving as a starter means the organization wants to ensure the pitcher gets innings to develop. But farm director Adam Wogan said Goeddel is going to get consideration to be a starter for his career because of a power fastball and developing changeup. … Reese Havens, the 22nd overall pick in 2008, who is the best internal candidate to ultimately emerge as second baseman, continues to work back from injury in Port St. Lucie. Havens had offseason surgery to remove an inch of a rib that was causing irritation. He missed much of last season with oblique issues. He is currently taking grounders, running and throwing at the organization's Florida complex, but the Mets are being cautious and having him refrain from swinging a bat. … Jenrry Mejia tossed six scoreless innings Friday against Triple-A Syracuse in his season debut. Bisons pitching coach Ricky Bones had Mejia establish his fastball command and utilize his curveball early in the game, then more so use his changeup later in the outing. Mejia next is scheduled to face Scranton/Wilkes-Barre, the Yankees' top affiliate, on Wednesday. … Right-hander Boof Bonser, who left his first start for Triple-A Buffalo with two out in the fourth inning after 59 pitches on Sunday, landed on the Bisons' disabled list with a right forearm strain. Bonser originally labeled the issue tightness and regardless does not expect to have an extended absence. … Buffalo's roster is about to get crowded. Right-handed reliever Manny Acosta, who cleared waivers, is expected to be activated Wednesday. Catcher Dusty Ryan and infielder Luis Hernandez should be activated days later. Acosta had not thrown off a mound during his week going through the designated-for-assignment process, so the Mets delayed activating him while he threw Saturday and Monday bullpen sessions. Hernandez, who was delayed at the start of spring training because he was returning from a broken foot suffered in September, played nine innings in an extended spring training game Monday. He is expected to assume the primary second-base role for the Bisons at Justin Turner's expense. Ryan, who appeared in 27 games for the Detroit Tigers between 2008 and '09, was delayed leaving Port St. Lucie because he was hit in the helmet with a pitch during a minor league spring-training game shortly before minor league teams broke camp. … Lucas Duda committed an error in right field and went 0-for-4 while batting third on Monday in his first Triple-A game of the season, after a demotion from the Mets. In a four-run fifth inning by Pawtucket, Josh Reddick sent a line drive in Duda's direction. Duda attempted an ill-advised slide to try to stop the ball, but it went under his leg and rolled to the wall for what was ruled a double and an error. Duda should see most of his action at the corner outfield spots, with more limited action at first base. His addition, with the presence of fellow prospects Fernando Martinez, Kirk Nieuwenhuis and Nick Evans also on the roster, means solid veterans Jesus Feliciano, Valentino Pascucci and Russ Adams may see drastic reductions in playing time -- or may not be all active. … Shortstop Ruben Tejada has reached base in each of his first six games with Buffalo. He was hitting .304 with three RBIs through 23 at-bats. … Right-hander Tobi Stoner has started throwing off a mound in Port St. Lucie and may be a few weeks away from pitching in an extended spring training game. Stoner underwent August surgery to remove bone spurs/chips from his pitching elbow, but a shoulder impingement was the issue that slowed him in spring training. Stoner, 26, made one appearance for the Mets last season and was removed from the 40-man roster during the offseason. … Dillon Gee, who may get a spot start for the Mets on Sunday in Atlanta, rebounded nicely from an Opening Day defeat. Gee allowed one run on three hits and two walks while striking out four in seven innings Tuesday against Triple-A Pawtucket. On Opening Day, Gee had been charged with seven runs (five earned) in 4 2/3 innings against Syracuse. … Right-hander Dylan Owen, moved from Binghamton to Buffalo because of an overworked Triple-A bullpen, allowed seven runs (two earned) in 1 1/3 innings in his first Bisons appearance. … First baseman Allan Dykstra -- who opened the Binghamton season 0-for-7 with two errors, including one throwing miscue that resulted in a 1-0 defeat for left-hander Robert Carson on Sunday -- landed on the disabled list with a sprained left ankle. Michael Fisher was added to the B-Mets' roster. Dykstra, who had not played above A-ball since being selected in the first round in 2008, was acquired from the San Diego Padres late in spring training for right-handed reliever Eddie Kunz. Josh Satin, who had been manning second base for the B-Mets in Havens' absence, can play first or second, depending whether B-Mets manager Wally Backman wants to use Jose Coronado at second or Fisher at first base. … German catcher Kai Gronauer produced his first Double-A homer on Monday, against Erie. Gronauer (.313) has drawn early positive reviews for handling a rotation that already had significant experience in the Eastern League in 2010. In fact, the first turn through the B-Mets' rotation, Josh Stinson, Carson, Mark Cohoon, Holt and Brandon Moore combined to limit opponents to four earned runs in 24 2/3 innings, for a 1.46 ERA. … After serving a three-game carryover suspension from 2010 for throwing behind a batter, left-hander Eric Niesen assumed his new role with Binghamton as a reliever. Niesen, who had made 74 starts over his first four professional seasons, had a solid introduction to the new role Sunday at Akron with a 1-2-3 inning with one strikeout. Niesen has abandoned the wind-up and is now using a quick slide step. … First baseman Sam Honeck, an 11th-round pick in 2009 from Tulane, is off to quick start with Savannah a year after a gruesome injury ended his season on May 5, 2010 with the Sand Gnats. Honeck had suffered a broken tibia and fibula and underwent surgery as the result of a plate collision at Delmarva. He spent a couple of days hospitalized, had screws inserted and was not cleared to resume playing until right before this year's spring training. Freakishly, Honeck's two brothers had the same compound leg fracture. One brother -- a professional golfer -- sustained those injuries in a car accident in Mexico just two weeks before Honeck's plate collision. … Right fielder Javier Rodriguez, a second-round pick in 2008 from Puerto Rico, had two homers in his first four games with Savannah. … Right-hander Armando Rodriguez is nursing an oblique strain but has resumed throwing. He could open his season in four or five weeks. Rodriguez, 23, went 8-9 with a 3.08 ERA in 27 starts with Savannah last season. … Right-hander Jimmy Fuller will miss the season following shoulder surgery. A 21st-round pick in 2008, Fuller went a combined 11-5 with a 2.19 ERA in 24 starts for Savannah and St. Lucie last season.
Adam Rubin's farm report appears Wednesdays during the season